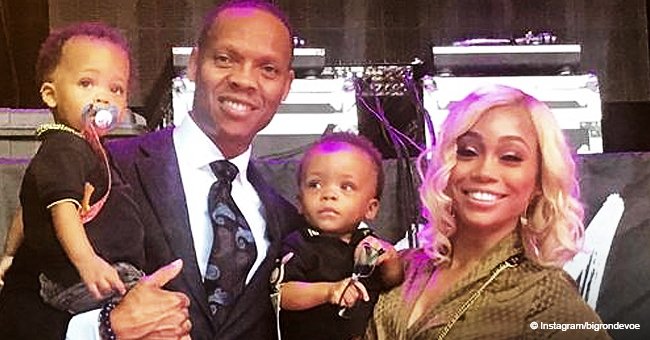 Ronnie DeVoe & Wife Celebrate Love & Family on Their 13th Wedding Anniversary in Adorable Photos
Ronnie and Shamari DeVoe celebrated their 13th wedding anniversary with a romantic escapade to Puerto Rico, throwback pics with their twin sons, and a few heartwarming words to each other that were captured on video.
Shamari and Ronnie DeVoe recently took to their respective Instagram accounts to celebrate 13 years of love and share their joy with fans.
The couple flew to Puerto Rico, where they enjoyed the attention of the La Concha Resort, to commemorate the occasion with a romantic dinner and champagne, as they reaffirmed their undying love for each other.
"Just out here celebrating love and commitment on our wedding anniversary. Cheers to 13 years! 3/10," Shamari captioned a pic of the pair sitting side to side on a table and proudly displaying their wedding rings.
Ronnie also posted a video of their toast, where Shamari said:
"Cheers to a lifetime of love, joy, commitment, compassion, understanding…more babies. This is our 13-year wedding anniversary, and I am so blessed to have this wonderful, God-fearing, humble man who is so amazing. Who loves his family. Who would do anything for us. And I will back in return to him. He is my heart and my soul."
DeVoe backed up his wife's words, adding, "Thirteen years in the making. A whole lot of ups and downs, but more ups. Happy thirteen baby, I love you."
They closed the video with a kiss and a clank of their glasses, as DeVoe revealed they were getting ready to enjoy the island to its full potential.
Shamari also shared a series of pics with Ronnie and their 1-year-old twin sons, Ronald and Roman, that were taken last year at an RBRM: Ronnie, Bobby Ricky & Mike show. She added two pics from their marriage ceremony too.
"Thank you, God, for your many blessings. Thank you God for keeping your hands on our marriage and our family. We love you!" Shamari captioned the picture.
Fans of the couple filled their comment section with congratulatory messages and words of admiration. "Amen. What a declaration of Love. Sending you well and blessings," wrote one user.
Another added, "I want that type of unconditional love and support. Keep doing your thang...beautiful couple." And a third one chimed in to say,
"Happy Anniversary Y'all so cute together. With God First in y'all life the love will keep building and building. That's grown couple Flow."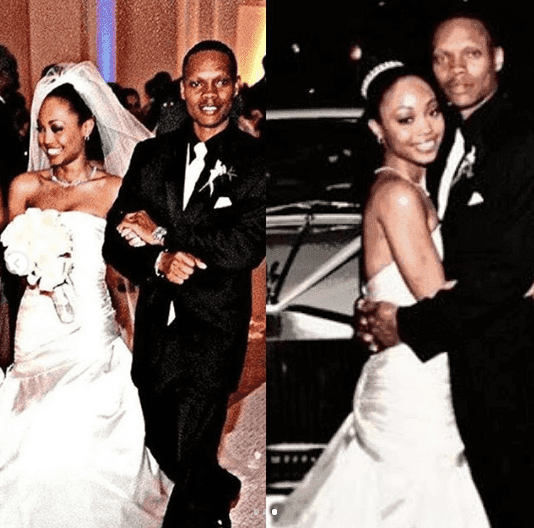 Shamari and Ronnie on their wedding day. | Source: Instagram/shamaridevoe/
Shamari and Ronnie first met at an after-party following MTV's Icon Award ceremony for Janet Jackson in 2001. At the time, Shamari was at the top of her career with the girl group Blaque, and Ronnie was about to release a new album with Bell Biv DeVoe.
They tied the knot in 2006 and welcomed their sons in 2017, but things weren't always easy for the couple.
Shamari recently joined the cast of "The Real Housewives of Atlanta," and on her first week on the show, she revealed that she and Ronnie were once in an open relationship.
The 38-year-old star explained that they were on the brink of divorce and facing many troubles, so, to fix their marriage, Shamari suggested an open relationship. "We were going through some really bad times, and there was a girl that I was interested in, and I wanted to do something different. I was bi-curious!" she said.
After a while, Shamari and Ronnie realized that bringing other people into their relationship was not helping, so she decided to pull the plug on the situation.
"I learned that we ARE destiny partners and that we will never allow anybody to come between our love bond again," she told Bravo. "We went through a lot of heartache and pain, but we stayed committed to working it out and were able to overcome our challenges and use our story as our testimony."
However, after experiencing an open relationship first hand, Shamari is not an advocate for that kind of situation. Instead, she vows for communication and honesty with your partner. She said:
"If you're thinking about trying an open marriage, please don't do it!!! Figure out how to get back to what brought the two of you together and speak to each other's love languages. I'm a strong advocate of communication and honesty in relationships and extremely passionate about families staying together."
Although Ronnie was not happy about Shamari revealing their marital issues on national television, she believes their story might serve as an example to other couples.
"There may be couples in similar situations that don't have the courage to share, so I'm willing to take on the burden by sharing my story," she admitted.
Please fill in your e-mail so we can share with you our top stories!