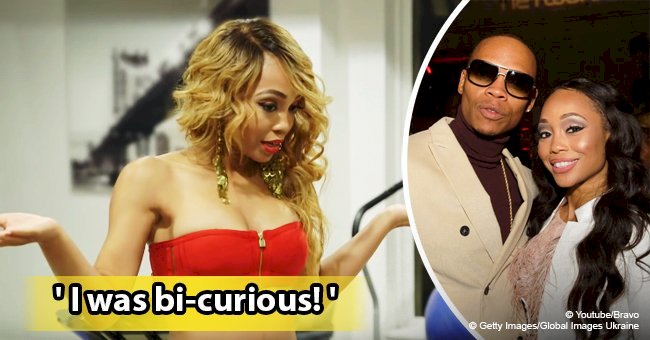 Shamari DeVoe heats up talks after revealing she started an open marriage with her husband Ronnie

he Real Housewives of Atlanta's newest Housewife, Shamari DeVoe, has no issues telling her relationship secrets. She recently revealed she start an open marriage with her husband, Ronnie DeVoe.
On Sunday's episode of "Real House Wives of Atlanta" Shamari made her second appearance on the show. The Blaque singer held nothing back and decided to reveal a shocking secret about her relationship.
During the episode, Shamari reveals that she initiated an open marriage with her husband, Ronnie. According to her, their marriage was in a rocky place so they decided to do something different.
During that time, she was bi-curious. She told him she was interested in pursuing a woman and he agreed to the idea.
"We were on the brink of divorce. We were going through some really bad times and there was a girl that I was interested in and I wanted to do something different. I was bi-curious!" revealed Shamari
She went on to say, "Y'all know each other and are dating other people and it's okay. It's not cheating."The mother and musician then answered the many questions her fellow castmates, including NeNe Leakes, Kandi Burruss, Cynthia Bailey, Porsha Williams, and Eva Marcille threw at her.
Shamari's co-stars wondered if the extra-marital relationships were primarily emotional or sexual. She revealed that they were sexual.
She also said that part of the conditions was that she would not date other men. However, her husband did date, other women.
"Do you tell him like, 'I'm going to have sex tonight?' " Leakes asked.

"After you guys do it, do you tell each other who it was?" wondered Bailey.

"Would you run into these people and be like, 'I had sex with your wife yesterday'?" Marcille inquired.

"There was nothing off limits," Shamari said. "We could do anything. It was awesome."
Shamari revealed she didn't mind being unable to see other men as she was only interested in experimenting with women to satisfy her bi-curious tendencies. She continued saying she ended up sleeping with two women, while Ronnie "probably slept with about 10."
She eventually put a stop to the arrangement. Saying "I started the open relationship and I stopped the open relationship," she said. "I realized the grass wasn't greener on the other side."
The experimentation doesn't seem to have left any bad feelings in their relationship. Last week, she called the "Candy Girl" and "Poison" hitmaker "a legend."
"He is everything to the world. A lot of people have come up to me and been like, 'Oh my God, you know you're married to my husband.' And it's like, 'No baby, I'm not married to your husband, I'm married to my husband. The legend." ~ Shamari
"It was time for me to share my story, my family's story and for people to see who I am and what I'm about." said Shamari in an interview.
Please fill in your e-mail so we can share with you our top stories!