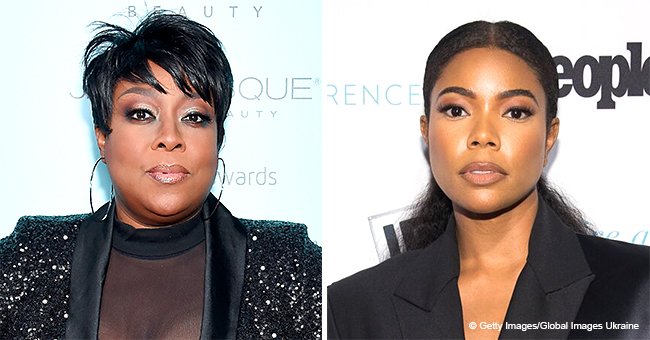 Gabby Union, Loni Love & Others Share Frustrations over Stylists Who Can't Do Black Hair, Make-Up

A young model sparks a discussion over the need for stylists who are competent enough to handle Black women's natural hair. Celebrities like Gabrielle Union and Loni Love chimed in and revealed they too can sympathize.
Five Black women in the modeling and entertainment industry including Gabrielle Union and Loni Love have joined forces to spark interest in the lack of hair stylists to cater to their needs.
Young model Olivia Anakwe got the ball rolling when she shared her recent experience where a team of stylists during Paris Fashion Week didn't know how to handle her hair. She was asked to wear her natural hair for her modeling stint but was disappointed to learn that none of the stylists knew how to style her afro hair.
Two stylists attempted to do it but ended up butchering her locks. She shared a clip of the incident on her Instagram and expressed her dismay in her caption.
"This message is to spread awareness & hopefully reach anyone in the hair field to expand their range of skills. Black models are still asking for just one hairstylist on every team no matter where your team is from to care for afro hair."
Anakwe further detailed how a couple of hairstylists turned their backs on her when she tried to have her hair done. Not one of them knew how to do her hair which was supposed to be styled in cornrows. Finally, a nail stylist did the job but only after she asked two models who also couldn't help her.
"This is not okay. This will never be okay," Anakwe stressed. "This needs to change. No matter how small your team is, make sure you have one person that is competent at doing afro texture hair care OR just hire a black hairstylist!"
The 21-year-old added that it's just fair that White stylists should learn how to do the hair of Black women just as Black stylists are forced to know how to handle White women's hair.
"It does not matter if you don't specialize in afro hair, as a continuous learner in your field you should be open to what you have yet to accomplish; take a class," she insists.
"I was ignored, I was forgotten, and I felt that. Unfortunately I'm not alone, black models with afro texture hair continuously face these similar unfair and disheartening circumstances. It's 2019, it's time to do better," she wrote before ending her message.
FINDING ALLIES
Anakwe is right. She's not alone. In fact, as soon as her post gained mileage, London Myers, who griped about the same experience in 2017 reposted her message and wrote, "
"I think it's time we all should start speaking up about our experiences backstage."
Myers was in a fashion show when she found herself being completely ignored by hair stylists. She vented out her frustration on social media.
"I don't need special treatment from anyone. What I need is for hairstylists to learn how to do black hair."
Meanwhile, back in the present, actress Yvette Nicole Brown chimed in and revealed, "Most black actresses come to a new set w/ their hair done (me) or bring their wigs & clip-ins w/them." She explains "It's either that or take a chance that you will look crazy on screen."
Brown isn't lying. Talk show host Loni Love comes to the set prepared too. "Honey I have brought my whole glam kit, flat irons, pink lotion, Shea butter at times during a new set. I'm tired of looking grey with red lips," she tweeted.
That same day, Gabrielle Union also gave her opinion about the issue when she commented on a tweet by Natasha Rothwell who said that "if you cast a POC…you also have to hire someone who knows how to do ethnic hair." And she means "someone who actually knows how to style ethnic hair types."
In response, Union tweeted,
"The pressure to "just be happy they picked you & you got a job, don't ask for the SAME things every other actor/model gets on GP..." Listen, if u stay quiet, u WILL have bald spots, hair damage, look NUTS (tho they will tell u its cuuuuuuuuute."
A DECADES-OLD PROBLEM
The clamor for hair stylists who are competent with afro hair isn't new. In fact, supermodel Naomi Campbell spoke about being faced with inexperienced hair stylists in 2016.
"When I was younger, I encountered this same issue," she told Teen Vogue. "I would be backstage at shows and there would be stylists who didn't have any experience working with black models."
"It's disappointing to hear that models of color are still encountering these same issues all these years later."
BARING IT ALL
Campbell, who often styles her hair straight recently made waves when she "bared it all" sharing a photo of her natural hair styled in cornrows. Just a year before, the 48-year-old opened up about a problem she's had with her hair due to years of abuse. She said she had bald patches and a receding hairline, the effects of years of wearing extensions, braids and weaves as required by her modeling job.
Hair care is clearly a problem for Black women who need more effort to tame hair. With the growing trend of keeping it natural, it would be such a comfort if more hair stylists paid attention to the cause of learning more about how to style ethnic hair.
Please fill in your e-mail so we can share with you our top stories!