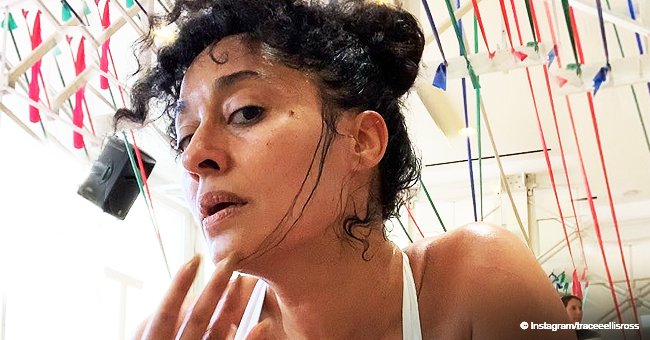 Tracee Ellis Ross Turns up the Heat, Flaunting Her Seductive Body While Working out in New Videos
On Monday, actress and multi-talented personality Tracee Ellis Ross took to Instagram to share the secret to her flawless body. She shared videos and images of her exercise routine.
The clips showed her having fun as she put her body through a rigorous workout.
"Black-ish" and "Girlfriends" actress Tracee Ellis Ross, 46, isn't shy to flaunt her toned body. This week she took to Instagram with a post showing her working out.
She captioned the first clip, "MONDAY FEELS ~ let's bring the joy!" In it, she was seen wearing a gray sweater, leopard print leggings, white sneakers, and a white sports bra as she danced to Sia's "Alive" at the gym.
The star appeared to be loving every moment of her workout routine as she smiled and danced happily for the camera. At one point, the video cut and she was seen sweating without the sweater on.
Her second clip was much shorter and showed her playing seductively with her hair as she made some poses. This video was captioned, "SUNDAY SWEAT ~ and a [black baby emoji] hair side burn [sic]!"
She further prompted her fans to pop into her Instagram Story to see her exercising and building up the sweat. One fan commented, "It's crazy how you get finer with age.. You are so beautiful [heart eyes emoji]."
Another one commented, "God she fine." While another follower added, "I'm obsessed with this video! That looks so fun!"
Last year November, the actress revealed that she worked hard to have the body she has today. She stated, "The 'I woke up like this' thing? [expletive]!" adding, "At 18 I might have woken up like this. At 45 I [expletive] work for it."
Ross is a firm follower of trainer Tracy Anderson and this wasn't the first time she posted a workout video. She shared that she had to work out hard because "I love potato chips more than anything in the world."
The star is a lifelong athlete and skipping a workout is non-negotiable for her. She said, "I love sweating; it's one of the ways that I process everything that goes on during the week and move it through my body."
Ross isn't just an actress; she's also a doctor through an honorary doctorate from her alma mater, Brown University. However, that's only some of her roles!
She's also an advocate, a fashion designer, a beauty disruptor, and politically opinionated.
The star hasn't always been so positive about her body image growing up. Her bottom was one of her body parts that she just hated.
Luckily, the older she's gotten, the more she's grown to love every part of her body; including her most hated one.
Please fill in your e-mail so we can share with you our top stories!