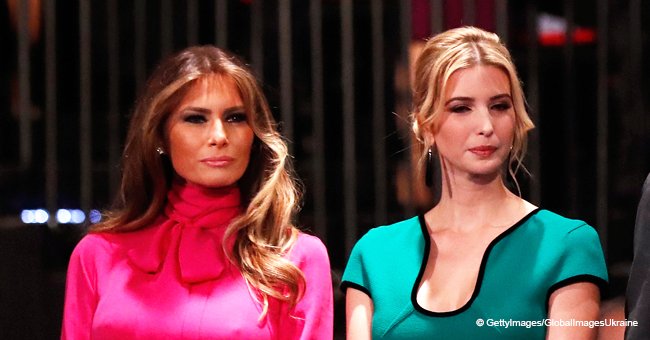 First Lady and First Daughter: Inside the Unusual Relationship between Melania and Ivanka Trump

First Lady Melania and Ivanka Trump rarely appear together and have a complicated dynamic that has its own pros and cons.
When Donald Trump became president, traditionality flew out the window, perhaps even before then as it was his daughter Ivanka that accompanied Donald Trump on some of his presidential rallies in 2016.
Melania's aversion to the transactional socializing and general dynamics of campaigning had her steer clear as much as she could. Ivanka, on the other hand, thrive in such conditions.
Soon after her father became president Ivanka set about to carve out a role as advisor and policy maker in the Trump Administration. She claimed herself an office in the West Wing, traditionally the first lady's domain, while Melania only joined her husband in the White House several months after he took up the office.
Melania stayed with their son, Barron in Trump Towers in New York until he finished his school year before she moved to the White House.
With Melania having come in after the fact, as it were, the White House staff including Ivanka had already found their patch to scratch, and the First Lady had to adjust and find the best way to assume her role in the administration.
Ivanka gets prickly when asked questions traditionally associated with the First Lady and reminds that she is a policy worker. Melania's spokeswoman, Stephanie Grisham addressed rumors in 2017 that Melania and Ivanka don't see eye to eye and said:
"Ivanka and Mrs. Trump have always shared a close relationship, and that continues today."
For the White House staff, it is a challenge to manage the schedules of both Trump woman. Their itineraries seldom overlap and often travel to different places at the same time.
But Stephanie reiterated that Melania and Ivanka have a good relationship as she said more recently in a statement to The Sunday Times:
"The office of the first lady is focused on her initiatives and works independently. But we often collaborate on a variety of projects with the West Wing and have a very positive working relationship."
As mentioned earlier, the current presidency is anything but traditional; after all, Melania is the first presidential wife ever to pose nude.
And Donald was a real estate tycoon before he ran for president, the only one not to not have been actively working in politics before he got elected.
Headlines about the presidential couple frequent the news and media outlets sometimes go too far. All though Melanie often ignores tabloids and fake news, an article from the Daily Mail in 2017 prompted her to take action.
The publication basically said that Melania was not only a model, but an escort and Melania filed a lawsuit seeking damages to the value of $ 150m. They later removed the article and paid a settlement early in 2018.
On March 8 an appearance by Melania had conspiracy channels buzzing. She and President Trump went to Alabama to honor the victims of a deadly tornado. When netizens saw the updates from the day on social media, an old theory found new life.
Please fill in your e-mail so we can share with you our top stories!