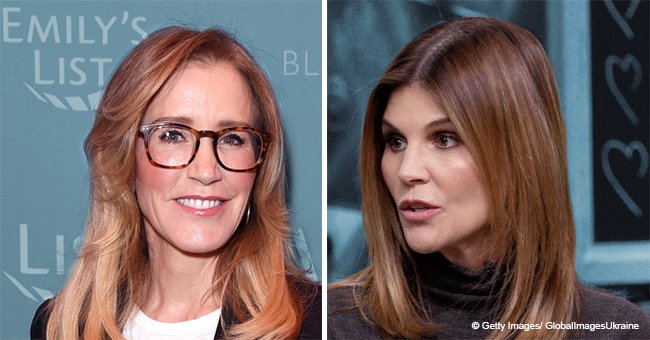 Lori Loughlin and 45 Others Face Lawsuit of $500 Billion from Parent of Rejected Student
Actresses Felicity Huffman and Lori Loughlin are part of the 45 people who are currently facing criminal charges for their involvement in the college admissions bribery scandal. Both of them have been to court and paid bonds to be released.
However, now on top of the charges they face, it's been reported that a parent whose child failed to get admission to college is suing them.
On Wednesday, Jennifer Kay Toy allegedly filed a $500 billion lawsuit against all the people who were named in the college admissions bribery scandal. The complaint was filed at the Superior Court of California, County of San Francisco.
Some of those who have been named in the scheme are Felicity Huffman, Lori Loughlin, her husband, fashion designer Mossimo Giannulli, businessman Gregory Abbot, private equity investor Bill McGlashan, and many others. Toy is a former school teacher from Oakland, California.
Her reason for the lawsuit was that her son, Joshua Toy, was rejected from some of the same colleges that were involved in the bribery scandal. His rejection came despite him getting a 4.2 GPA.
The parent believes her son would've been accepted if the admissions process hadn't been manipulated. In the lawsuit, she said: "Joshua applied to some of the colleges where the cheating took place and did not get in."
She further explained, "Joshua and I believed that he'd had a fair chance just like all other applicants, but did not make the cut for some undisclosed reason."
Toy said:
"I'm now aware of the massive cheating scandal wherein wealthy people conspired with people in positions of power and authority at colleges in order to allow their children to gain access to the very colleges that Joshua was rejected from."
Her statement added:
"Plaintiffs simply wanted a fair chance for themselves or their children to go to a good college, and that opportunity for a fair chance was stolen by the actions of the Defendants… who feel that, because they are wealthy, they are allowed to lie, cheat and steal from others."
Her lawsuit was considered as a class action complaint which was filed "on behalf of all persons in the United States… whose rights to a fair chance at an entrance to college was stolen by the actions of Defendants." She and her family are asking for a jury trial.
They also requested that the court provides monetary, non-monetary, and punitive damages, for no less than $500 billion. The parent has allegedly asked for her attorney's fees, costs, and expenses to be covered.
Toy isn't the only one filing against the accused. Two Stanford students, Erica Olsen and Kalea Woods, have allegedly filed a class action complaint on the same day.
Their lawsuit is against USC, Stanford, UCLA, the University of San Diego, the University of Texas at Austin, Wake Forest, Yale, and Georgetown, and others for negligence and fraudulent behavior.
Huffman and Loughlin have both been quiet since their arrests this week. Their silence has left many of their fans and followers wondering if it an unspoken admission of guilt.
Please fill in your e-mail so we can share with you our top stories!