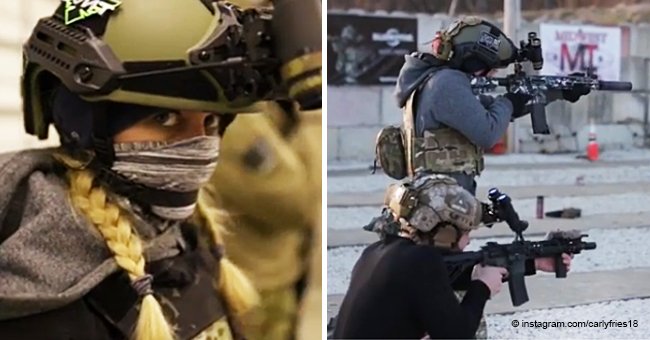 Actress Who Appeared on 'Law & Order: SVU' and 'Cold Case' Is Ditching Hollywood for the Army
If the name Carly Schroeder sounds familiar, it should. The "General Hospital" star had made a name for herself in Hollywood, but now she traded that life for another where Carly feels she can make a lasting impact on those in need.
On February 13, Carly made the big announcement to her fans on Instagram. She enlisted in the US Army and assured fans that she "considered it for a while" before she made the "big choice."
As part of a military family, Carly's Green Beret medic father, and her US Marine brother have been the most supportive of her decision to serve her country.
The 28-year-old's motivation is to be able to help and advocate for veterans and human trafficking victims an aims at working in military intelligence. The time has come for her to made the difference she had always wanted.
The "Lizzie McGuire" star underwent numerous military training courses last year and frequently posted updates for her fans on Instagram, with some going back as far as March 2018.
Even though her life as an actress was "exciting and all" Carly officially joined the United States Army in January.
With her qualifying PFT's, an outstanding ASVAB score of 92, and a college degree from California Lutheran University in Criminal Justice, Carly got accepted into Officer Candidate School.
"Serving my country will give my voice more validity. I can better serve and advocate for veterans once I am a part of their community," Carly said. But she also enjoys the switch in career, and as part of a military family she added, "There is no way I am going to let the boys have all the fun."
Feeling comfortable around military gear and weapons, her journey towards her new life probably showed itself before she even started training when she posted an update on Instagram in 2017:
Various other actors had served their country in the past as well. Tom Selleck served the California Army National Guard from 1967 until 1973. Oscar winner Morgan Freeman also did his due diligence serving the Air Force.
Adam Driver, the "Star Wars" actor, joined the Marines for much the same reason as Carly did. Shortly after the September 11 attacks in 2001, Adam was "filled with a sense of patriotism and retribution and the desire to do something." However, he got medically discharged after two years of service and took up acting.
Another actor who's devoted his life to helping veterans is "Forest Gump" star Gary Sinise. In 2011 he founded the Gary Sinise Foundation after his own touching story led him to a lifetime of caring for wounded veterans.
Please fill in your e-mail so we can share with you our top stories!