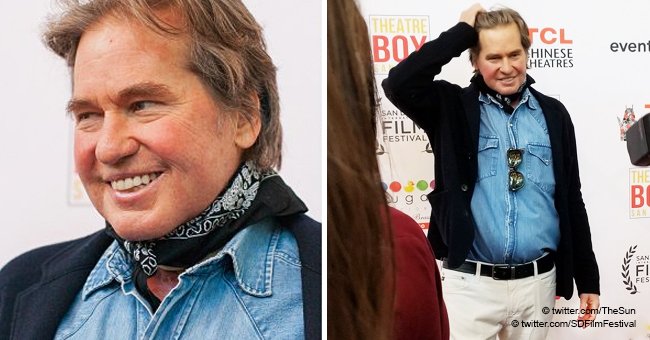 Brave Val Kilmer Makes a Rare Appearence after Overcoming a Two-Year Battle with Throat Cancer
Val Kilmer made a rare public appearance on Thursday, and he looks healthier and happier than he has in years.
Held at the Theatre Box and Sugar Factory, Val attended the Cinema Twain screening in San Diego and literally looked like a kid in a candy store as he rummaged and picked his way through the sweets.
Donned in light-colored trousers, a denim shirt, dark jacket and a dark scarf concealing his breathing apparatus, Val seemed in high spirits ahead of the much-anticipated screening.
The actor had just overcome a two year battle with cancer, and the scars from his battle which lasted two years left his "voice to a rasp and rendered him short of breath."
Val is believed to have had surgery late last year to help with his breathing but won't let his health get in the way of his love for film. Shortly before the surgery in October 2018, Val attended the showing of Pacific Rim Rising in Los Angeles cinema, and it was also the last time he got spotted out and about until Thursday night.
But this actor has far from run out of steam as his new movie is due for release soon. With more plans on the horizon. None the less, it's been a hard road for Val and denied to the public that he was even sick most of the time.
When he first got spotted with what appeared to be a breathing aid in 2015, he denied rumors of his deteriorating health. He said that an undisclosed procedure left him with "swelling."
More denial of being sick followed until he admitted during a Q & A in April 2017 that he had cancer, but that he'd been cured.
Val then shared his diagnosis on Reddit where fans showered him with support. A week after his post, Val thanked everyone for their support and was "grateful for all the prayers and good thoughts from around the world."
Soon fans will get to see Val Kilmer onscreen alongside Tom Cruise in the sequel Top Gun: Maverick. The movie release date is scheduled for July 12, 2019, and Val will step back into the shoes of Tom "Iceman" Kazansky.
What helped Val deal with his cancer diagnosis was his faith as a Christian Scientist but is also not as serious of a person as he was earlier on in life. It doesn't mean he lost ambition as he said:
"I'd get upset when things like Oscars and recognition failed to come my way. I would like to have more Oscars than anybody. Meryl Streep must feel pretty good, you know? It must feel nice to know that everyone loves her. It's about being loved."
In a few short months, Val's son, Jack turns 24 years old, and he is so much like his father.
Please fill in your e-mail so we can share with you our top stories!