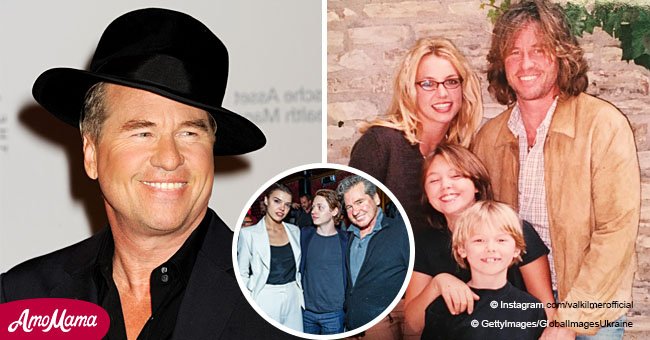 Val Kilmer's son is 23 years old now and he looks so similar to his famous dad
Jack Kilmer is a star in his own right, but his undeniable similarity to his superstar dad Val Kilmer, and the opportunity afforded to him because of it is undeniable!
The genetics that created Jack, born to Val Kilmer and Joanne Whalley, means that not only did he grow up with acting in his blood, he also grew up in Los Angeles and hobnobbed with celebrities.
The school he attended as a child was the same place that other Hollywood stars like Beyonce and Jay Z, Barbra Streisand and Denzel Washington sent their children.
He met film director Gia Coppola, granddaughter of Francis Ford Coppola, when he was in the first grade and she was in the sixth. She offered him his first role in a film, "Palo Alto," at the age of 16. His dad was given a role later.
Val's famous roles in iconic movies like "Batman Forever," "The Doors," and "Top Gun," can never be forgotten. And after he was recently cast in the sequel of "Top Gun," the Kilmer name just became even hotter property.
After Val had spent years denying he had a health issue, his battle with throat cancer had fans worried. Tom Cruise eventually provided a health update to fans saying that Val was doing okay.
At a private screening of Jack's film "Carte Blanche," fans did a double take when they saw him next to his father. Their resemblance is truly uncanny.
Jack is his father's doppelgänger from top to toe. While at 59 it might be hard to remember Val at Jack's youthful 23, seeing them together is what Val's #30YearChallenge on Facebook must look like.
But the young man's resume speaks for himself! Since his debut in "Palo Alto," his acting career over the past five years has seen him grow substantially.
Kilmer made a rare public appearance about 8 months ago to the "Carte Blanche" opening and shared a picture of himself, his son, and Jack's girlfriend, Eva Dolezalova, to his Facebook.
With ten mostly Indie films already under his belt and "Hala" screened in the U.S. Dramatic Competition section at the 2019 Sundance Film Festival, it is safe to say we haven't seen the last of him.
Please fill in your e-mail so we can share with you our top stories!