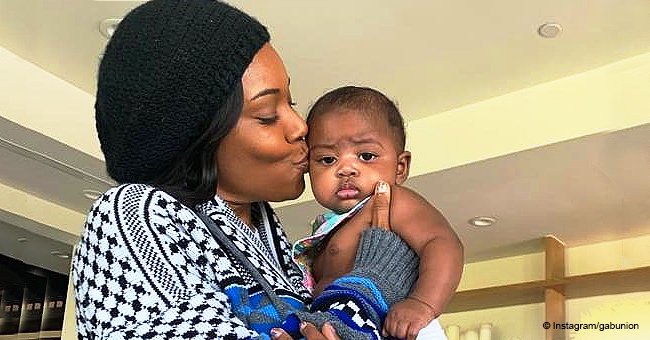 'Didn't Go Well': Gabby Union Opens up about Baby Kaavia's First Day of Trying Solid Foods
Gabrielle Union is testing the waters now that she's a new mom to her lovely daughter, Kaavia James Union Wade. At four months, the little girl got the first taste of solid food, and she did not like it very much.
At four-months-old, it was decided that Kaavia finally get a taste of solid food, but unfortunately for the eager mom, things did not go according to plan.
Union shared about the new experience on Instagram, saying it wasn't easy for the little one to eat some avocado for breakfast. With the way things went for Kaavia during breakfast, Gabrielle is already worried about what the young one would think about her lunch.
Trying to help out the frustrated mom, Instagram users began giving their tips about babies and solid food.
"@melaniefiona: Mix avocado with banana!!!!"
"@reshanda_s: They don't reccomend food until 6mo for her digestive track. My son will be 6mo in the 25th and he hasn't had anything other than breast milk."
"@mellbell13: @gabunion Try carrots for a first food. Sweet enough for her to like it, but not too sweet that she won't like other veggies."
KAAVIA JAMES THE TRADEMARK
With Dwyane Wade nearing his NBA retirement, he and Gabrielle have been making backup plans to continue to earn money. The couple decided to trademark their daughter's name and nickname for their businesses.
They sent in trademark applications for "Kaavia James" and "Shady Baby," one for their clothing line and another for a loan out company they recently started under their daughter's name. The loan out company wrote Gabrielle as its CEO, while Dwyane works as its CFO.
Aside from their loan out company, it seems they are also interested in using their daughter's name on diaper bags and baby bibs. Meanwhile, Shady Baby is a nickname that Union gave her little bundle of joy, describing her habit of "throwing shade" on her own Instagram account, which already has a total of 535,000 followers.
Gabrielle and Dwyane are over the moon now that they have a child together, after having difficulty conceiving in the past couple of years. With a lot more time on their hands in the future, they hope to make the most out of it.
Please fill in your e-mail so we can share with you our top stories!