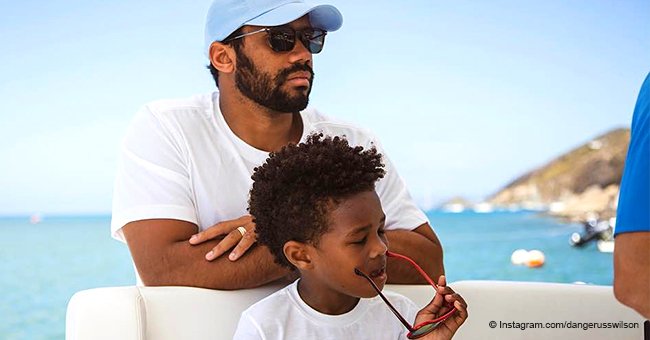 'You Really Find out What Love's Like,' Russell Wilson Reveals Special Relationship with Son Future

In a recent interview with Buzzfeed's AM to DM, the Seattle Seahawks quarterback revealed how much he loved his wife's son, Future, who she had while in a relationship with Trap King, Future.
On the interview, the quarterback spoke to the show's host, Isaac Fitzgerald about his offseason, the work of his foundation the — "Why Not You Foundation," — and how he has stepped into the role of being a father.
Speaking about his family and how he has been able to make a blended family unit work, Wilson was full of affection and happy with his role.
Wilson revealed that he tries always to make sure that he does as many things as possible for them.
He went on to say that he found out the real meaning of love by being a stepdad to baby Future and father to Sienna.
The loving father also confessed that being able to love someone that is not your child is real love, and he was proud to love Future that way.
It has not always been rosy for Ciara and Wilson in their relationship, as they have had to face up with media scrutiny and some opposition from her ex, Future.
The rapper had spoken out angrily against Wilson's involvement in his son's life. There had also been many tense custody hearings between Ciara and Future over Baby Future. The couple has risen above it all, and everything has been calm to this day.
The lovebirds connected immediately they met, but took their faith seriously, abstaining from sex until they were married.
Ciara made this revelation while on an interview after being on the cover of InStyle Magazine. She said that she and her husband knew they were an item right from their first date in 2015 but still decided to wait till marriage before having sex. She explained that such an action was tough and challenging and that it took a lot of prayers to achieve.
Russel Wilson remains a role model for many fathers and is an excellent example of how to show love to kids, yours or not.
Please fill in your e-mail so we can share with you our top stories!