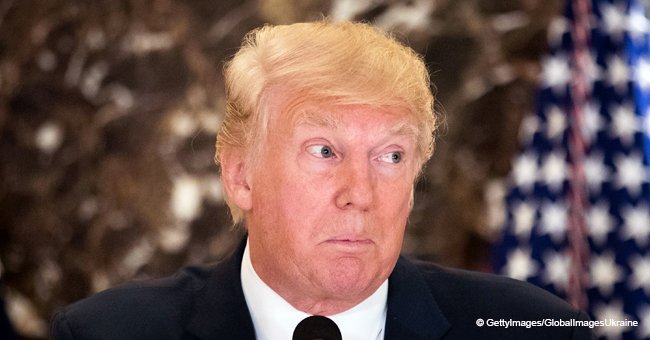 Bible with Trump's Signature Has Allegedly Appeared on Ebay so Anyone Can Now Own It
President Trump signed Bibles for the tornado victims in Alabama which raised a few eyebrows, but this wasn't the first time he did it because one of them, which he signed at a rally years ago, sold on eBay for $325.
Trump flew to Alabama via a military base on the Georgia-Alabama border. He made an aerial survey of the region by helicopter before landing in Beauregard, where he and Melania observed a moment of silence remembering the victims of the disaster.
The President also met with the victims and listened to their experiences saying,
"What they've been through is incredible."
It was at the relief center of Providence Baptist Church that Trump signed the Bibles, as well as spoke and showed appreciation to the local law enforcement officers and first responders.
After photos and videos of the President signing Bibles circulated, and an autographed Bible went on sale on eBay, detractors took to social media to share their opinions.
Producer Bill Prady tweeted,
"People don't understand the purpose of Trump signing Bibles. Many people are without a way to prepare food after a disaster. When Trump signs a Bible, it bursts into flame and people can cook over it."
Political analyst Matthew Dowd commented,
"I don't know who it is a worse commentary on: Trump actually signing Bibles in Alabama, or the people asking him to sign a Bible. Lordy Moses."
Backlash for anything Trump says or does is not unusual. It was also during the couple's visit to Alabama that the old issue and hashtag #FakeMelania got its second wind. Many detractors analyzed the photos taken during the First Couple's tour of the devastated town and commented on how the First Lady didn't look quite like herself, insinuating she used a stand-in to take her place.
President Trump called the media and theory of Melania's body double "deranged".
Please fill in your e-mail so we can share with you our top stories!