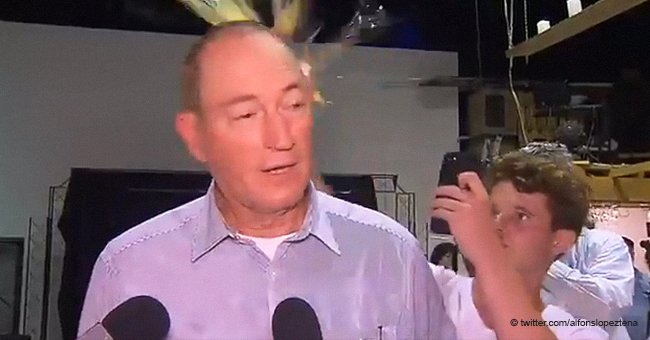 Lawmaker That Blamed Muslims for the New Zealand Shooting Gets an Egg Smashed on His Head
Fraser Anning, an anti-immigration lawmaker from Australia, has recently been criticized for his harsh words towards Muslims, leading a young man to smash an egg on his head.
The incident took place on Friday, March 15, 2019, while Anning was speaking to the media. After having the egg smashed on his scalp, the lawmaker violently punched the teenager twice.
As can be seen in the Facebook video, which has quickly gone viral across several social media platforms, 17-year-old Will Connoly was tackled and held until police arrived.
A NEW HERO IN TOWN
Whether it was a dare or a form of expression against the Senator's racist word following the Christchurch shooting, the truth is that the young man can be spotted filming everything with his phone.
Connolly, now known online as Egg Boy, was arrested by the police but was later released pending further inquiries. So far, it is unknown whether Anning will be pressing charges.
ANNING'S CRUSADE AGAINST MUSLIMS
The Australian lawmaker has shocked the internet by claiming that Muslims were to blame for Friday's mass shooting, which culminated in 49 lives lost, including children.
"The real cause of bloodshed on New Zealand streets today is the immigration program which allowed Muslim fanatics to migrate to New Zealand in the first place."
Fraser Anning, The New York Times, March 16, 2019
CONSIDERED A DISGRACE BY HIS PEERS
The claim was originally made through an official press release, which has since been shared by several people online, who considered his comments to be highly racist , bigoted and disrespectful.
After having the egg smashed on his scalp, the lawmaker violently punched the teenager twice.
Scott Morrison, the Australian Prime Minister, later came to public to say that Anning's words were disgusting and that those views had no place in Australia, let alone the Australian Parliament.
Malcolm Turnbull, former Prime Minister of Australia, also took to social media to address the issue, describing Anning as a "disgrace to the Senate" and accusing him of turning Australians against each other.
Please fill in your e-mail so we can share with you our top stories!