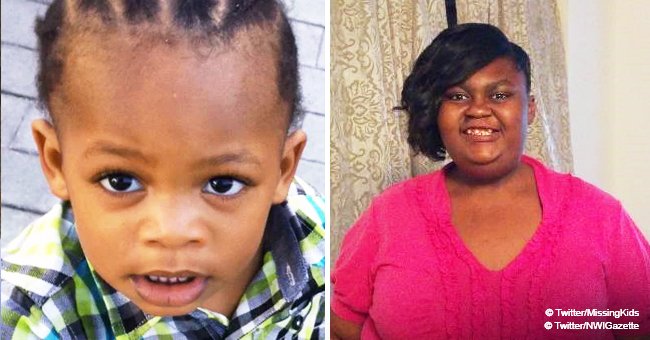 Indiana Woman Has Faith Her Grandson Is Still Alive after 2015 Disappearance from Relative's Home

Three years after her grandson went missing, one grandmother in Indiana is still hopeful that he might be alive.
La Shann Walker of Indiana still remembers how her two-year-old grandson loved to listen to his mom sing John Legend songs. Little King Walker was a "happy baby" La Shann said.
But from July 25, 2015, La Shann would not see her laughing grandson again. He and his 21-year-old aunt named Diamond Bynum disappeared that day.
Till now, no one knows what happened to the pair. Bynum had the capacity of a seven-year-old thanks to Prader-Willi syndrome, a genetic disorder. She and King were at La Shann's home in the 500 block of Matthews Street on the foreboding day.
King's mother Ariana Walker had brought them over to her mother to take care of them. She was studying at cosmetology school and had to attend classes.
La Shann said she took a nap at the home and by the time she woke up around 11 am, Bynum and King were both gone. Subsequent searches and an investigation yielded no results.
The A&E network released the story on Live PD while the National Center for Missing and Exploited Children printed and distributed fliers. A silver alert for Bynum and an amber alert for King was sent out.
La Shann is still mourning as less and less potential sightings turn up. The last hope she had was from a tip the Indiana State Police got in June 2017.
She said:
"It's devastating. I have days where I'm just crying," Walker says. "I try to stay positive — but sometimes it's hard not knowing anything at all."
She hasn't relented and is determined to find out what happened.
She explained:
"I wanted to get a private investigator, but it costs so much. I couldn't afford it. Thinking about death, I'd go crazy. I have to stay focused and keep my mind right so I can be good when they get home."
Persons who think they might have information about the missing two are urged to call the Indiana State Police Detective Chris Campione at 219-696-6242, the National Center for Missing & Exploited Children at 1-800-THE-LOST or the Gary Police Department at 219-881-1260.
Meanwhile, Marion Suge Knight's son, Suge J Knight, also believes a well-known celebrity is still alive. He posted a series of Instagram posts outlining the theory that Tupac Shakur's drive-by shooting was staged.
He also claimed that the legendary rapper was alive and well in Malaysia. Knight Jr. included video clips and a selfie photo of an individual that looked like the famous "All Eyez On Me" rapper.
In a daring claim, he blamed the Illuminati for the disappearance of Shakur. He had to put out the disclaimer that he wasn't on drugs as he went into details about the alleged secret society.
Knight Jr.'s father was himself convicted of voluntary manslaughter for a 2015 hit-and-run incident that killed 55-year-old Terry Carter. The court sentenced him to 28 years in prison in September 2018.
Please fill in your e-mail so we can share with you our top stories!