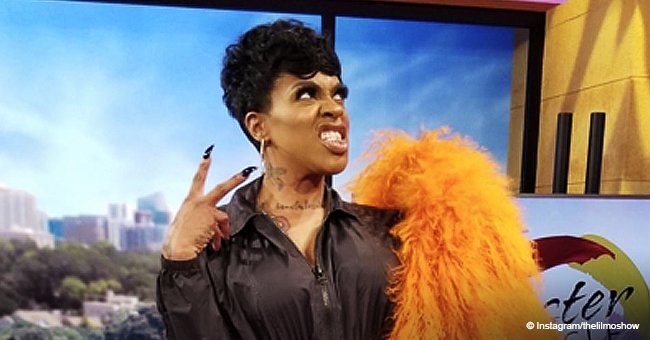 Lil Mo Gets Slammed and Sparks Parenting Debate over Recent Family Photo
Lil Mo, the rapper and TV personality best known for "R&B Divas: Los Angeles," took to Instagram to share a photo with her son that caused a lot of negative reaction.
Cynthia Karen Loving, best known by her stage name Lil Mo, has five children so far from her relationships with Al Stone, Philip Bryant, and Karl Dargan Sr. The youngest member of the family is Karl Dargan Jr., born on August 28, 2015.
Recently, the 40-year-old rapper went to the Philly Fashion Week with her husband and son and even hit the runway. Lil Mo posted a photo of the exciting moment on her Instagram page, but some people didn't like it.
HER WARDROBE CHOICE
In the image, the lady appeared wearing a beige see-through unitard, red high heels, and a big beige coat. Karl Sr. opted for black pants, a bright yellow hoodie, and a navy coat.
The member of the family who attracted more attention, though, was Karl Jr. as he wore blue jeans, a light blue hoodie, a denim jacket, and a pacifier.
GETTING BACKLASH
As soon as the rapper uploaded that pic, her followers took to the comment section to blame her for giving her son a pacifier even though he is a few months away from turning four.
"I know people parent their own way but yo, a pacifier???? He bout 5 or 6 isn't he?" [sic] wondered one user.
"The jump suit and the pacifier gotta go," added a second follower.
"U look a mess mo, Don't ever do that again we can see your panties and your personals and why does this grown lil boy has a pacifier in his mouth. All this makes you look bad," [sic] pointed out another person.
In her efforts to defend her son, Lil Mo responded to one of the comments with a threat that read: "It's my child. Play with my son, and I'll make sure you live on a colostomy bag forever."
NEGATIVE EFFECTS OF PACIFIERS
According to Mayoclinic, using a pacifier for too many years might carry long-term dental problems, including "a child's teeth to be misaligned or not come in properly."
It is not the first time that the rapper and her family make headlines, though. She and her husband have had a tough relationship, especially because of the many times he has cheated on her.
In their efforts to solve their problems and fix their marriage, they went to WeTV's "Marriage Boot Camp: Hip Hop Edition." During one of the episodes, the man appeared in the kitchen having some cereal while Lil Mo was sleeping.
Then, he video called another woman and told her, "tell me you love me," to what the mysterious lady responded, "I love you." The rapper didn't take things lightly and took to Twitter to complain about it.
Please fill in your e-mail so we can share with you our top stories!