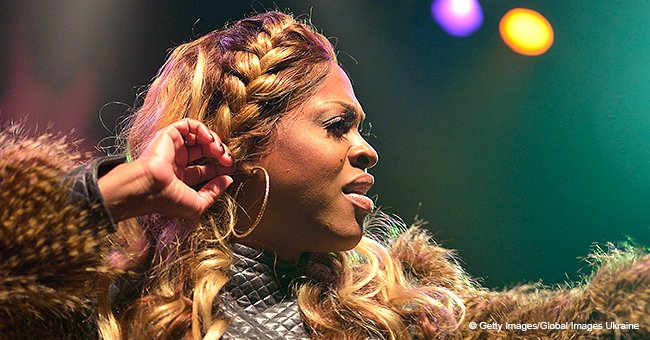 Lil Mo goes off after husband is caught affectionately talking to mystery woman on national TV

Lil Mo is furious and took to social media to vent after her husband, Karl Dargan, was caught cheating on national television. It won't be the first time Dargan has been in a compromising position.
The "Put It On Me" singer and her pro boxer hubby have not had the smoothest marriage, but she's been trying to fix things.
After an appearance on "Couples Court," the couple is now on WeTV's "Marriage Boot Camp: Hip Hop Edition" to see how they can solve their problems, most of which arise from Dargan's infidelity.
Unfortunately, it was on that same show that the 33-year-old boxer chose to confirm that he's not trying to change his ways.
"I had no intentions of getting married, I had no intentions on ever being with one woman."
In a clip from a recent episode of "Marriage Boot Camp," everyone was getting ready for bed when Dargan went to the kitchen for some cereal. While there, he decided to go on a video call with another woman while his wife was upstairs in bed.
"What's up?" Dargan said to the woman whose face was blurred. She, in turn, asked if he was eating cereal and if he was alone.
"Yeah, tell me you love me," Dargan asked, and the unidentified woman said: "I love you."
MO'S RESPONSE
While it's weird that the boxing champ would video-call another woman on a reality series where cameras monitor every movement, Mo has fired off a round of fiery responses to the action on Twitter.
Besides an abundance of angry emojis, the Grammy-nominated R&B singer tweeted:
"Almost done and this nigga do some CAP [expletive]. Now I'm mad all over again. I should kick him in his [expletive] neck yo. Dirty ass whores."
In another tweet, Mo, whose birth name is Cynthia Loving, said:
"I wonder do people get pleasure out of others pain. Like how does it feel to do someone dirty."
PHILANDERING HISTORY
Sadly, it won't be the first time Dargan is caught in a compromising position. Back in 2014, not long after he and Mo got together, a woman accused him of propositioning her for sex and having gay tendencies.
At the time, Mo defended her husband and claimed it was a publicity stunt, even though the other woman admitted it wasn't.
Also, it appears Mo, 40, might not have paid enough attention to Dargan's cheating ways. According to Madamenoire, the athlete claims he told his wife about his philandering ways and reluctance to get married.
"I used to be out here. I used to be out here dealing with multiple women at times, you know, five/six women at one time. Basically, I was a thot," he confessed. "I had no intentions of getting married, I had no intentions on ever being with one woman but I was trying to work on it, and I told her, listen, I'm out here. It's not an overnight process, but I'll try the best I can. I slipped up and got caught up."
BLENDED FAMILY
Mo and Dargan, who share one son, started dating in 2014, not long after she separated from her second husband, Phillip Bryant. Mo and Bryant have two sons together. The singer also has two daughters with her first ex-husband, Al Stone.
Last October, Mo announced that she'd be taking a break from music and entertainment to focus on her dream of becoming a lawyer.
Please fill in your e-mail so we can share with you our top stories!