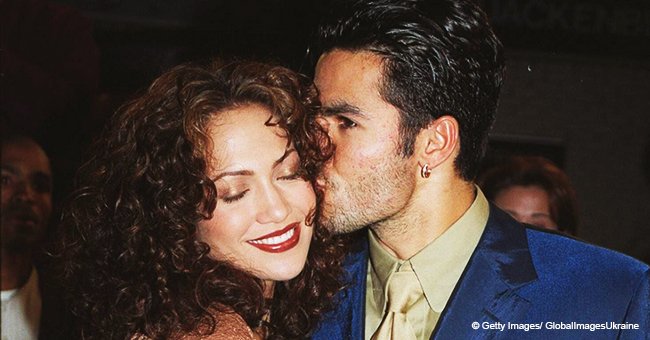 Meet Ojani Noa, Jennifer Lopez' First Husband Who She Once Sued over Their Honeymoon Tape

The "I'm Real" singer, Jennifer Lopez got very real when she and Alex Rodriguez got engaged on March 10, 2019. As this would be Jennifer's fifth turn at the altar one's thoughts may wander back to her first and tumultuous marriage to Ojani Noa.
When Jennifer and Ojani met, he was a waiter at a Cuban restaurant in Miami Beach and full of dreams of being the next Ricky Martin, "I am just like Ricky when I sing. I want to be famous and respected for what I do, just like Jen," Ojani said after their divorce.
The couple got married on February 22, 1997, after he proposed with a $100,000 marquis-cut diamond ring, but they divorced shortly after in January 1998. She would next marry the dancer, Chris Judd in 2001 but their marital bliss only lasted two years and later divorced in 2003.
The initial break-up with Ojani went fairly amicable, and Jennifer even appointed him to run the Cuban restaurant she opened in April 2002, called Madre's for $1,000 a week.
The arrangement didn't work out, and Jennifer fired Ojani six months later. Matters only went downhill from there, as Ojani did everything he could to get some revenge.
He sued Jennifer for breach of contract and made claims to the tabloids about their relationship. In 2003, he told Closer magazine that where sex was concerned they "did as much as humans can possibly do" and obsessively wanted "sex in unusual places."
Her 11-month marriage to Ojani cost her years in court as she slapped back with a $10 million lawsuit against Ojani for violating a confidentiality agreement by selling a honeymoon video of them made in 1997.
Titled "How I Married Jennifer Lopez: The J.Lo and Ojani Noa Story," the video reportedly shows Jennifer scantily dressed while Ojani spanked for all he is worth and included a fight between her and her mother.
In 2007, Jennifer won the lawsuit against Ojani which forbade him for publishing a book he wrote about their 11 months of marriage.
Alleged claims in the book accused Jennifer on cheating with him and her husband at the time, Marc Anthony whom she was married to from 2004 until 2014.
When the couple got engaged, Marc gave her a magnificent 8.5-carat blue emerald-cut diamond ring from Harry Winston, estimated to be worth $4 million. The two singers are also parents to twins Emme and Max born in 2009.
However, Jennifer is positively glowing after Alex Rodiguez proposed on March 10, 2019, and Jennifer finally shared more pictures of the big day.
Please fill in your e-mail so we can share with you our top stories!