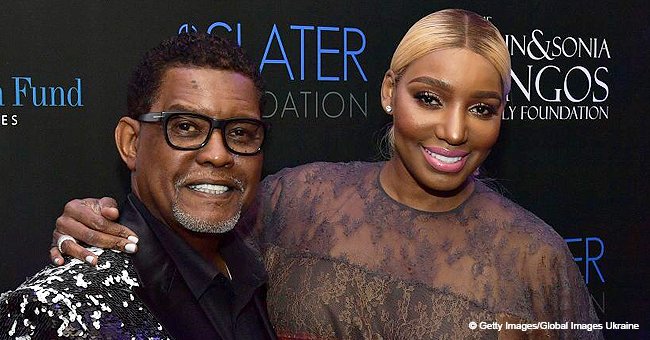 Nene Leakes Claps Back at Rumors She & Gregg Live Separately Saying They 'Are Very Much Together'
Nene Leakes has put the rumors about her separation from cancer-stricken husband, Gregg Leakes, to rest. The reality star took to social media to set the record straight after a snippet from 'RHOA' seemed to imply the couple was, at least, living separately.
It has been a rough year for Nene Leakes after her husband was diagnosed with stage 3 colon cancer last June.
The journey hasn't been easy on Nene and her marriage, as Gregg's mood changes have left her wondering if they would be better separated.
However, the couple has pulled through the challenge, and despite what the upcoming episode of "Real Housewives of Atlanta" shows, they are together and going strong.
Leakes confirmed just that on her social media accounts on Monday. On Instagram, the reality star shared a pic of her and Gregg smiling and the business owner sporting a cap that reads "Cancer sucks," and added in her caption:
"Oh Lawd! They say we separated now @greggleakes #fakenews I appreciate you tho Gregg for accepting and understanding that being a caretaker is something I've never done and I have truly done the best I know how all while making tons of mistakes along the way," she wrote. "You never asked to get sick, and We were both thrown into these new positions over nite but whew chile you have kicked cancers ass! I can't wait for u to share with the world your exciting news in a couple of weeks."
On Twitter, Leakes also made sure to slam the rumors, quoting a fan that was wishing her and Gregg the best after their separation, and adding: "Oh pleaseeeeee! Gregg Leakes and I are VERY much together! U looking at an episode that was shot in July 2018."
The rumor storm came after a snippet from the upcoming episode of "RHOA" was leaked on social media. In the clip, Nene confessed to co-star Cynthia Bailey that Gregg was talking about moving out and separating.
Leakes, 51, has been open about the struggles she has gone through after Gregg was diagnosed with cancer.
"It's very, very hard to be a caretaker," she told People. And continued:
"People call, and they say, 'How's Gregg doing?' and I want to throw the phone and say, 'How the f*** am I doing? I'm going crazy over here, Gregg is wearing me out!'"
According to Nene, Gregg's attitude changed a lot after he was diagnosed. "I feel like that day, I lost my husband. Our whole dynamic changed. Sometimes I forget that he's sick and I need to remind myself because he's so on the edge. He's not nice, but he can't help it," she said.
Gregg publicly apologized to Nene in January with a heartfelt Instagram post, saying:
"I'm tired of hurting my wife who is only trying to take good care of me and wants only the best for me too. She deserves much more for her hard efforts and tireless hours spent on me. I pray to God to get it together… she's done NO wrong… this is ALL on me."
On her recent visit to "The Real," Nene revealed that Gregg has great news to share with fans on the final reunion of "RHOA" this season, which is set to air in another couple of weeks.
She also revealed that they are seeing a marriage counselor to help them work on their issues, but they're still very much together.
Please fill in your e-mail so we can share with you our top stories!