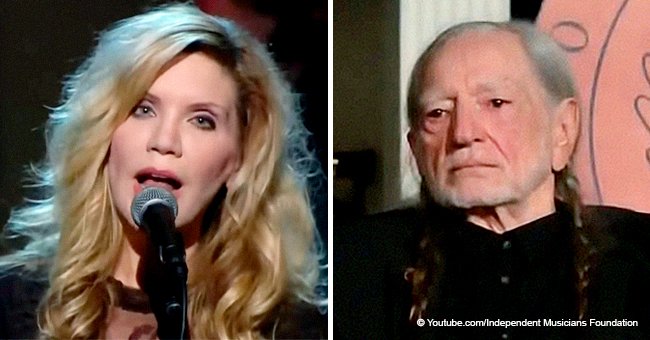 Alison Krauss' Angelic Rendition of 'Seven Spanish Angels' Almost Brought Willie Nelson to Tears
Iconic musician Willie Nelson was honored at the Gershwin Prize Awards Ceremony by his fellow artists for all his contributions and achievements throughout his career.
Nelson received the Gershwin Prize for Popular Song Award a distinction presented by the Library of Congress. In his long career which began in the 1950s, he achieved commercial success in genres of country, outlaw country, blues, and jazz. And he has also tried his hand at acting, producing, and often involves himself in causes as an activist for issues like biofuel and the legalization of marijuana.
His close friends in the industry, Alison Krauss and Jamey Johnson paid tribute to the well-loved Nelson by singing, "Seven Spanish Angels". The song was originally recorded by Ray Charles as a duet with Willie with the artists splitting verses.
Krauss and Johnson's cover was a moving rendition that moved Nelson to tears.
Music is very much a part of Nelson's family history. He learned to play the guitar from his grandparents who were music teachers in Texas. His older sister Bobbie played the piano, and the siblings would play together in church. The collaboration continued through the years with Bobbie going on the road with her brother for tours.
Nelson's children are also talented musicians. Daughters Amy and Paula have careers in music, and his son Lukas has a band called "Lukas Nelson & Promise of the Real" that performs rock music and also works as a backing band for stars like Neil Young.
Inspired to take up the guitar as a way to spend more time with his touring father, Lukas shared,
"If I learned how to play really well, and then we could go out on the road together, and I could be around you more."
Lukas' sound, style, and passion for music is something he inherited from his famous dad.
Please fill in your e-mail so we can share with you our top stories!