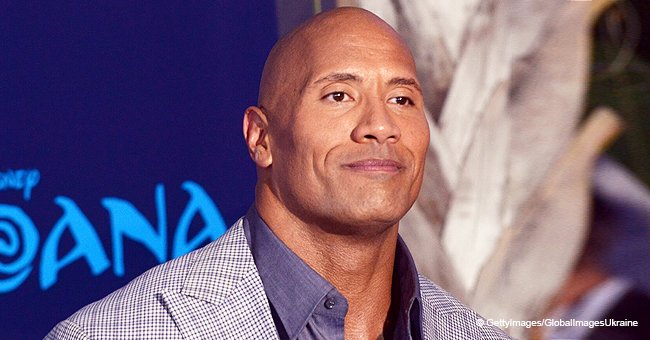 Dwayne Johnson Left People Furious after 'Sexy' Army Tank Named in His Honor
Dwayne 'The Rock' Johnson responds with gratitude after an Army tank is named after him. His response sparks controversy, leaving fans and social media users in dismay.
A tweet by the 1st Armored Division was recently posted in hopes that it would reach famous actor and wrestler, Dwayne 'The Rock' Johnson. It was a shoutout to Dwayne that one of their new tanks was named after him.
"'If you smell what America's Tank Division is cooking!' Shoutout to the #IronSoldiers assigned to the @Blackhawk_SQDN for naming one of their tanks in homage to the @TheRock. Hopefully the "People's Champ" will see it and give you guys a shoutout and a retweet! #TuesdayThoughts"
Upon hearing the news, Dwayne responded with gratitude through an Instagram post which said:
"I'm sending a salute of respect & gratitude to the Blackhawk Squadron 1st Armored Division for the honor of naming their tank (the most advanced in the world) Dwayne "The Rock" Johnson. Heavy duty, bad [expletive], sexy AF and built to take care of business -- but most importantly, thank you all for your service. Grateful to the bone. #IronSoldiers #BlackhawkSquadron #1stArmouredDivision #FortBliss #TheDRJ #BloodSweatRespect"
The post quickly gained over 2 million likes and thousands of comments extending their congratulations to Dwayne. However, not everyone felt the same happiness, as the post sparked outrage towards others.
Comments were diverse as some supported the actor, while others called him out for celebrating a weapon of destruction being named after him. Others even went as far as unfollowing the him.
One social media user said:
"Hell yeah!!! As a veteran, I appreciate your support and kind words. This is totally bad [expletive]!!!"

Instagram/therock
Meanwhile, another opposed:
"Having a death machine named after me is not a dream of mine. Maybe a sicko like you. Your aspirations are disgusting, not surprising."

Instagram/therock
There were also some who came to his defense, saying:
"Do you want him to address all the bad in the world or remain a positive influence? Either way it's not up to you, keep on keeping on."

Instagram/therock
"Everyone is giving so much negativity about this. The rock has always been a proud supporter of our troops. You think him being honored by something the military did on their own is condoning war? So like. We are just supposed to sit wide open for attack and unable to defend ourselves? Give me a break. All these people being so easily offended and scared. Come on. Get over yourselves. Support our troops. They are the ones keeping us safe. Just because you support our troops does not in any way what so ever condone war."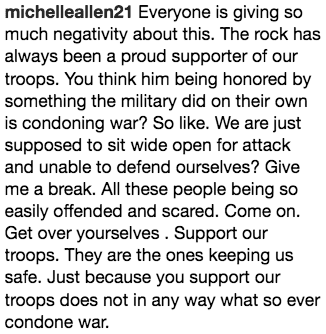 Instagram/therock
Perhaps the situation blew out of proportion as fans took his acknowledgment the wrong way. His post was nothing but a mere response to the honor of naming a high technology device after him, of all people.
The underlying issue that caused outrage is the fact that the tank itself may be a weapon of destruction. However, the use of the tank may often be overlooked, as it can instead be a weapon of defense in the outbreak of war - it may even save the lives of the very fans who reacted as such.
Nevertheless, Dwayne did not show any signs of retaliation to those who hated him. As per the post, he was probably just expressing his gratitude. Similarly, he also posted his way of thanksgiving to his parents by buying his father a new house. The story was posted on his Instagram, as are other stories about his family.
Please fill in your e-mail so we can share with you our top stories!