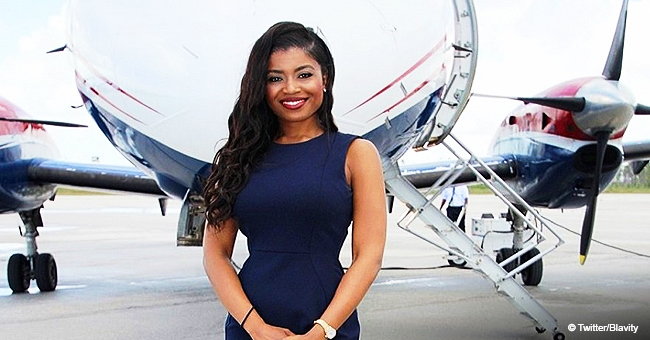 Meet the 29-Year-Old Black Woman Who Runs a Private Airline Worth $90 Million
Rexy Rolle managed to steer her parents' airline company to greater heights with her focus and discipline. Moreover, as a young Black woman holding an executive position in a Black-owned company, she shares sound advice on how to fend off men who threaten her womanhood.
She's 29 years old and already an accomplished leader in the field of aviation with a future that's pretty much sky-high. Meet Sherrexcia "Rexy" Rolle, daughter of the founders of Western Air.
TAKING HER FATHER'S DREAM TO GREATER HEIGHTS
As the Vice President and General Counsel of the Bahamas-based company, Rexy is one of the youngest executives on the reigns of a Black-owned airline. But this didn't hinder her from taking her parents' company to greater heights. In fact, as a millennial who grew up in the urban setting, she managed to steer their company to a business that's now worth $90 million.
"The minute I sense a meeting has turned beyond the level of business, I shut it down immediately."
In an interview with Bauce Magazine, Rexy credits her parents for establishing their company born out of her father's vision. Rex Rolle began his career as a pilot for a private institution and worked his way towards achieving his dream of owning an airline. With the help of his wife, Shandrice Rolle, along with hard work, perseverance, and faith, they managed to attract two investors who trusted their business plan. That paved the way for the birth of Western Air Limited.
Rexy says despite the tough competition, her parents filled in the gaps. They realized that among the 700 islands of the Bahamas, many of those weren't accessible by air. So they decided to cater to those destinations. This gave them an edge which they eventually built on.
Today, with Rexy overseeing their company's operations, she makes sure it's consistent in providing quality service. And that means that her passengers "get there safely, on time and most importantly, with their luggage intact," she says.
Furthermore, with a great percentage of the market already online, she intends to expand their company's marketing efforts by using social media.
"My parents did a great job with grassroots marketing through word of mouth in the Bahamas but now it is time to increase our awareness and promote our services internationally," she explains.
ASSERTING HER WOMANHOOD
Being a Black woman in a competitive field, Rexy also understands the implications it comes with. However, she says, as long as you're "confident in what you know" and are "focused on the mission," no man should be able to take advantage.
"The minute I sense a meeting has turned beyond the level of business, I shut it down immediately," she says and adds, "Anyone that has approached me in any other manner allowed me to know that I would not be doing business with them."
As for her advice to other women who may be threatened by sexual harassment, she says,
"You should not tolerate anything that will degrade you of your womanhood and character. Everything will work out and you should never adhere to sexual harassment or misconduct in the workspace. Those that do that are threatened by your confidence and intelligence."
#METOO REVISITED
Not many women have the courage to stand up to other men as Rexy does. In fact, the rise of the #MeToo movement is a testament to this. On October 2017, dozens of women spoke up and accused film producer Harvey Weinstein of sexual harassment. He reportedly used his power to take advantage of these women, most of them actresses who were looking to break into the entertainment industry. The high-profile scandal led to the rebirth of the 2006 phrase "Me Too" popularized by American social activist, Tarana Burke. In light of the controversy surrounding Weinstein and his arrest, actress Alyssa Milano brought back the term to encourage others to speak up about their experiences of sexual abuse. Soon, more and more women came forward naming famous men who were sexual predators.
Please fill in your e-mail so we can share with you our top stories!