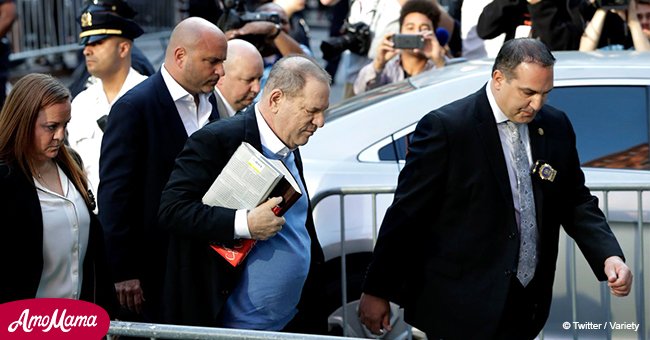 Harvey Weinstein turns himself in to police
The high profile celebrity has turned himself into police custody. Harvey Weinstein has charges that are related to a sex crime.
Last year, Weinstein faced reports from dozens of women that claimed he had sexually harassed or assaulted them. The Huffington Post reported that the accusers said his misconduct had occurred for many decades.
According to Teen Vogue, dozens of women began telling news outlets that Weinstein had sexually harassed or assaulted them over a span of decades. Reports by The New York Times and The New Yorker saw dozens of women come forward late last year to accuse him of various forms of sexual misconduct.
People stated that earlier this year, Jodi Kantor, Megan Twohey, and Ronan Farrow, who are reporters for The Times and The New Yorker, all received Pulitzer Prizes for public service. The prizes were for their reporting work.
The reporters and the women who shared their stories were credited with sparking the Me Too and Time's Up movements. These initiatives were against sexual misconduct that has affected many less high-profile industries.
The New York Times said Weinstein's charges were related to an accusation made by Lucia Evans. She told The New Yorker that the Hollywood producer had invited her to a meeting about work opportunities when he allegedly forced her to perform oral sex.
Evans said she'd told him repeatedly that she didn't want to have a sexual encounter with him but he was a big man who managed to overpower her. Weinstein's alleged abuse was an open secret in the industry due to Hollywood's culture of abuse.
The producer was so powerful that he could make or break a career. In a recent lawsuit against the star, a Netflix producer said that she recalled 11 separate incidents in which he sexually abused her.
"I tried to get away, but maybe I didn't try hard enough. I didn't want to kick him or fight him."
According to The Guardian, in March, Robert Boyce, a now-retired chief of detectives for New York City, said that his department had gathered "quite a bit of evidence" against the suspect. The Wall Street Journal reported that the NYPD also examined the alleged 2010 sexual assault of actress, Paz de la Huerta, as part of its investigation.
De la Huerta told Vanity Fair that Weinstein had sexually assaulted her twice with both incidents occurring at her Manhattan apartment. In the second assault, the actress had been drinking and recalled feeling afraid of the producer.
She shared that he had been repeatedly calling her since the first rape. "I did say no, and when he was on top of me I said, 'I don't want to do this.' He kept humping me and it was disgusting. He's like a pig," she revealed.
For his part, Weinstein has continuously denied the accusations. In 2015, New York District Attorney Cyrus Vance Jr. failed to charge the star for an alleged sexual assault on an Italian model.
At the time, the attorney had decided that there was insufficient evidence to charge him for allegedly groping her according to AP News. In March this year, New York Governor Andrew Cuomo ordered the state attorney general to review the decision.
Federal prosecutors in Manhattan were also reportedly investigating Weinstein. According to The LA Times and The Guardian, the same was being done by authorities in Los Angeles and London.
The Wall Street Journal reported earlier this week that the US Attorney's Office for the Southern District of New York had opened a sex crime investigation. This was to examine whether the producer had lured any women across state lines to commit a sex crime.
The producer reportedly tried to silence many of his accusers. He hired private investigators to dig up information on the women and journalists who were aware of his alleged misconduct.
Late last year, he checked himself into a rehabilitation facility in Scottsdale, Arizona. In October 2017, he was fired from the studio he co-founded, The Weinstein Company.
He's also been expelled from the Academy of Motion Picture Arts and Sciences, the Producers Guild of America, and the Academy of Television Arts and Sciences.
Please fill in your e-mail so we can share with you our top stories!