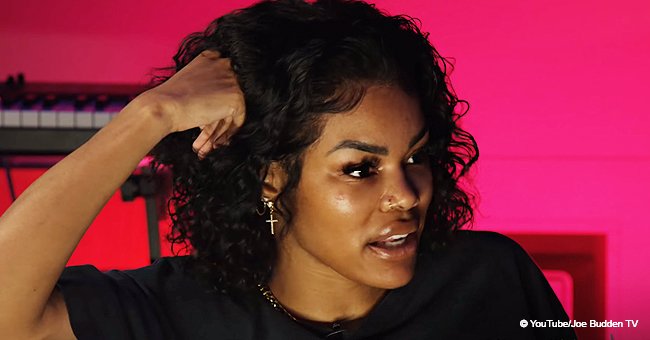 Teyana Taylor Reveals the Truth behind Her Risqué Interactions with Women on Stage

Teyana Taylor, the singer, dancer, and actress who has been married to NBA player Iman Shumpert since 2016, explained why it is okay to give women lap dances during her shows.
The 28-year-old singer was in an interview with Joe Budden for "Pull Up" wherein the host made her talk about different aspects of her life and career, including the sexy lap dances some women get while on her shows and what Iman thinks about it.
First, Teyana pointed out that there are many double standards and things in life that are unfair in a relationship, responding to Joe's comment about his hypothetical partner getting mad if he got a lap dance during a concert.
IT'S ALL ABOUT THE SHOW
Then, the singer added that her interactions with other women on stage were supposed to be "a happy medium" for her husband as she doesn't dance for men, so Iman shouldn't complain about it.
Teyana even said that inviting women onstage was a "respect thing for [Iman]" and that it was all about entertainment, which means it was part of her job. Apart from that, the singer pointed out that negotiation in a marriage is okay.
In her example, she said that Iman had the opportunity to say yes or no to her inviting men onstage and give them lap dances.
NEGOTIATING IN HER MARRIAGE
"If you say yes, mean it. If you say yes, mean it and don't hang that over the person's head. If you say no, don't feel bad about saying no. If you're willing to negotiate, you find a happy medium," confessed Teyana.
Joe wondered why didn't she dance on an empty chair, but the singer emphasized that there was nothing wrong about it because the dances are strictly business and her shows are "art," adding that, after every lap dance, nothing else happens apart from her moving to the next song.
She doesn't dance for men, so Iman shouldn't complain about it.
"The same way I perform 'Never Would Have Made It' and I cry, I mean that, but that's a part of my show where it's going to get real. It's still a part of entertainment, and it's a job," pointed out the mother-of-one starting at the 9:00-minute mark in this video.
HER DAUGHTER MELTING HEARTS
Recently, the singer melted her follower's hearts by sharing a photo of her three-year-old daughter Junie rocking brown and pink cowboy boots, blue jeans, a navy blue and pink shirt, and an oversized pink cowboy hat.
The final adorable touch of the image was the white and pink horse toy that the girl was riding. For the caption, the proud mother wrote, "Houston we have a problem! Issa new sheriff in town."
Junie was born on December 16, 2015. Since Teyana went into early labor, it was Iman who had to deliver the baby with his bare hands. Fortunately, he had no complications while doing so.
Please fill in your e-mail so we can share with you our top stories!