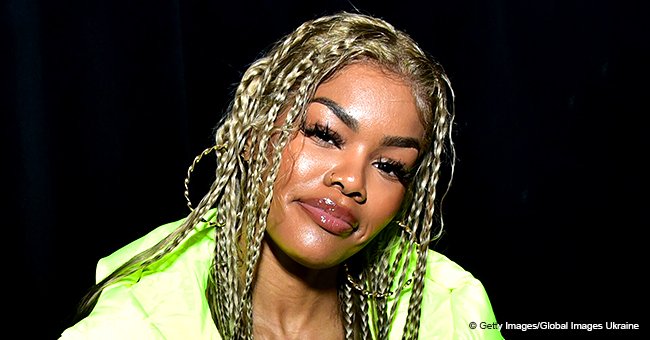 Teyana Taylor's Daughter Junie Looks Adorable, Rocking Pink Cowboy Hat and Boots in New Picture

Teyana Taylor's fashionable daughter strikes again wearing a cute cowboy outfit. The three-year-old channeled a Texan vibe wearing a giant pink cowboy hat and adorable boots.
"Issa new sheriff in TOWNNNNNNNN,"Teyana Taylor writes as she shares a photo of her adorable daughter Junie. The three-year-old dressed in cowboy boots and an oversized hat is all fans needed for a dose of positive vibes.
Junie's latest photo is another source of happiness for her mother as she channels a Texas-inspired outfit. She dons a pair of jeans tucked into a set of pink and brown boots. Her dark brown long-sleeved top had cactus prints in the shade of pink, the same shade as the giant cowboy hat she wore. To complete her look, she wore a silver studded belt and held on to a fake pony stick.
"HOUSTON WE HAVE A PROBLEM! Issa new sheriff in TOWNNNNNNNN," her mother wrote to caption the pic that earned raves from her followers.
"She is the cuteeessttttt !" one wrote while another welcomed the little girl to Houston.
Junie is a delight to her mother who often shares photos of the fashionable little girl. Last month, a series of pics also caught the attention of her fans as she wore a stylish winter outfit while standing on a giant chessboard.
"Good morning from Junie McStuffins," the singer wrote. No doubt her followers had an exceptional day seeing the photos.
Junie also looked trendy when she recently hung out with her idol, Cardi B and even played with the rapper's hair. Dressed in a yellow fur coat and sporting a cute updo, she beamed as she stood next to a blue-haired Cardi.
Teyana's love for Junie overflows. She and her husband Iman Shumpert welcomed her under very tense circumstances. Teyana was forced to give birth to the child at home with Iman on the phone as 911 instructed him what to do. She shared the recording of that emergency call on Junie's third birthday to remind her how special the little girl is.
More recently, there were rumors that Junie was about to have a half-sibling. News outlets reported that Iman impregnated another woman. However, both the basketball player and Teyana denied the rumors. The singer added that she would kill her husband if he ever cheated on her.
Please fill in your e-mail so we can share with you our top stories!