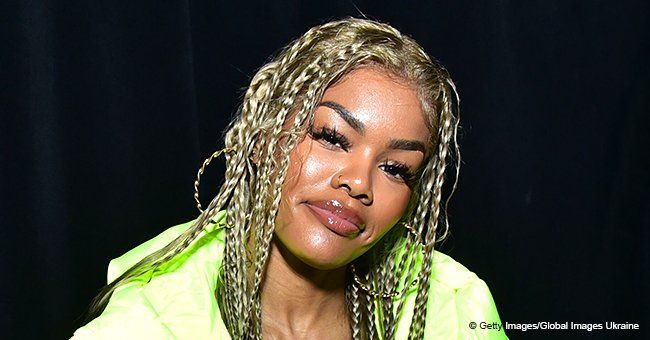 Teyana Taylor's Daughter Baby Junie Tries to Be Cardi B's Hairstylist in Adorable Set of Photos
Teyana Taylor's 3-year-old daughter, Iman "Junie" Tayla Shumpert, is bonding with her mom's friend, Cardi B, while practicing her hairstylist skills in recent pics.
Little Junie is melting hearts all over social media thanks to a set of pics shared by her mom on Instagram a few days ago.
In the adorable shots, the toddler is seen having fun with Grammy Award rapper Cardi B, who was clearly enjoying Junie's company.
Donning a fluffy yellow jacket with silver stars on it, and a grey jumpsuit underneath, Junie played around with Cardi's blue hair as the rapper smiled brightly at the girl's antics.
"UOENO @babyjunie4 & @iamcardib goes wayyyyyyyyy back," Taylor captioned the post, adding a series of crying, laughing and heart eyes emojis.
Fans of both stars took over the comment section to gush about the pic, with most demanding a collaboration between Cardi and Teyana, and others praising Junie's cuteness.
"The joy on this baby's face! You would've thought she swore Cardi was a princess!!" wrote one user. Another added, "Umm. I need y'all to do a song together ASAP!" and a third one chimed in to say:
"Lil Junie ...prolly [sic] think she's a mermaid with that hair color...she's all stroking it...lol...her cute self."
Back in December when Cardi B announced her split from husband Offset, she was seen partying with Teyana in Miami a day later. The two women have been pictured in several events together, but it seems like their friendship runs deep and now even Junie gets to hang out with the "Money" star.
The toddler is no stranger to the spotlight, and not shy in front of the cameras either.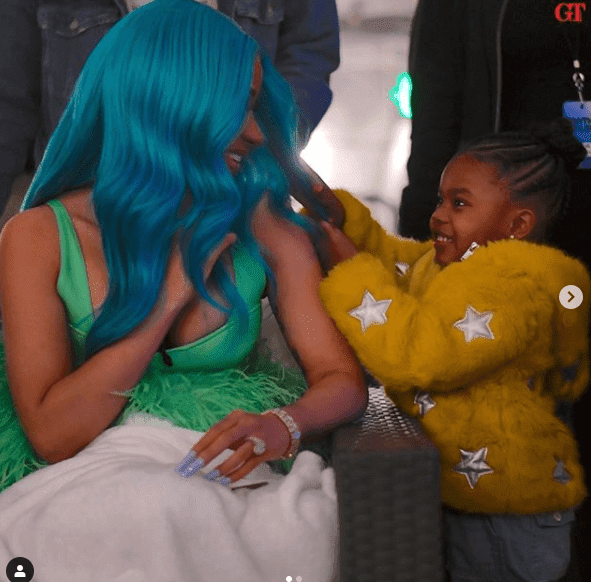 Cardi B let little Junie play with her hair. | Photo: Instagram/teyanataylor
Last year, she stole the show several times while her mom was promoting her album, "K.T.S.E." On a radio interview with Angie Martinez, Junie didn't think twice to grab the mic and start singing to her mom's songs in the middle of the interview. She played around with dolls, ate popcorn and later broke in an impromptu duet with Teyana singing "Issues/Hold on."
A few months later, Junie took the stage at one of her mom's shows from the "KTSE Tour."
She was wearing a cute skirt, a top with the U.S flag printed on it, a bomber jacket and earmuffs on place to protect her ears from the loud noise. And although she looked shy at first, Junie soon got over her stage fright and took the mic from her mother to give the crowd an impromptu rendition of "Never Would Have Made It."
The girl left her mom behind as she walked to the front of the stage pointing to the crowd while belting out the song. Teyana fell to the floor in shock, laughing and overwhelmed by her daughter's showmanship.
Although it is clear that Junie enjoys the spotlight, Teyana and her husband, Iman Shumpert, want to make sure their daughter has the freedom to choose under what career path she wants to go.
Taylor told People:
"Honestly, like one thing we want to do is give Junie the freedom to do whatever it is her little mind desires because sometimes she's singing and she's playing in makeup, and she's putting on lipstick, and she's dancing, but then she'll turn around, pick up a basketball, and she's trying to hoop."
Meanwhile, Junie is enjoying being a child with famous parents and even more famous friends.
Please fill in your e-mail so we can share with you our top stories!