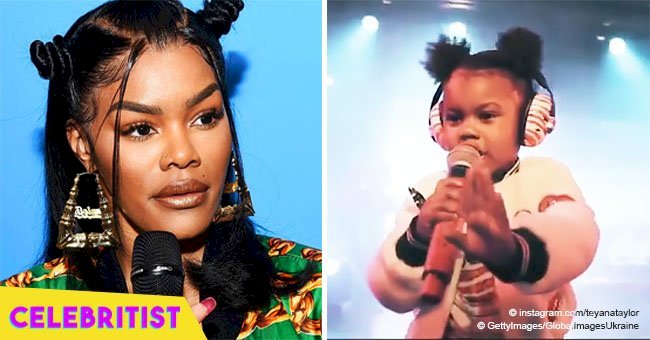 Teyana Taylor's 2-year-old daughter takes over the stage with a performance at mom's concert

Actress and singer Teyana Taylor, best known for "Teyana and Iman," took to Instagram to share a video of her daughter, Junie, singing during one of her concerts.
In the short clip, Teyana was in the middle of her presentation when her almost-three-year-old daughter, Junie, walked onto the stage and joined her mother. She was wearing leggings, a skirt, and a jacket while covering her ears with acoustic earmuffs.
As soon as Junie was in front of her mother, she started waving hello at the crowd, proving that she is not shy at all. Teyana put the mic close to the girl, and she said something.
The audience erupted in cheers, but the girl had something else prepared. When Teyana put the mic in front of her again, Junie surprised everyone.
SHARING A CUTE MOMENT
Both of them started singing, but then the girl held the mic, walked away from Teyana and closer to the audience, and kept singing alone.
TAKING THE STAGE
Junie was even waving at the camera while Teyana "passed out" in disbelief behind her. A member of the audience stood up and hi-fived Junie as a way to praise her for her fearless action.
For the caption, Teyana wrote that she had cried watching the video and urged her followers to take a look at it without shedding tears.
TEYANA LEAVING TOUR WITH JEREMIH
Last month, the singer dropped out of her "Later That Night" tour with singer and songwriter Jeremih, and she went to "The Real" to talk about it.
During the show, she pointed out that Jeremih was benefitting from all the hard work she was doing to promote the show.
HER NAME WAS NOT EVEN ON THE TICKET
Teyana felt disappointed because, after doing her own promo videos and taking the promotion task very seriously, something that Jeremih didn't do, his name was on everything. "My name wasn't even on the ticket," said Teyana.
The singer added that Jeremih didn't understand that they could promote the show on social media and the man even considered he didn't need to do it at all.
Teyana decided to continue her tour without Jeremih and only had to reschedule one tour date.
Please fill in your e-mail so we can share with you our top stories!