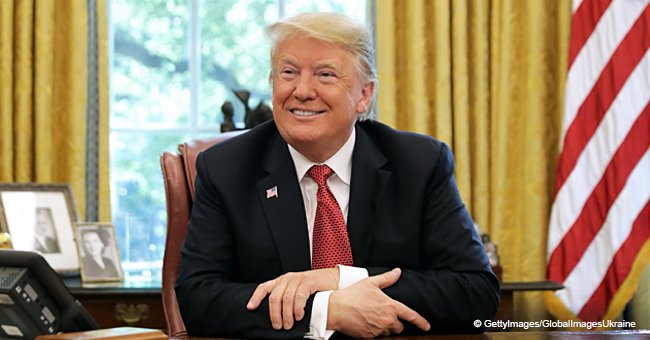 President Trump Donates a Quarter of His Paycheck to DHS with a Photo to Prove It
Donald Trump shared a photo of a cheque proving that he donates his quarterly salary to governmental departments, thus avoiding any chance of fake news about the matter.
The president once again took to Twitter to combat fake news by revealing that he stuck to his promise made in the 2016 presidential campaigns of donating his yearly salary. The post is found below.
Trump posted a photo of a $100,000 cheque signed by him and listed under his New York City Fifth Avenue Trump Tower address. Dated March 12, the cheque was made out to the Department of Homeland Security.
It appeared that people who read the post were unimpressed, pointing to golfing and other expenses the president allegedly uses tax money for.
In the caption, Trump wrote:
"While the press doesn't like writing about it, nor do I need them to, I donate my yearly Presidential salary of $400,000.00 to different agencies throughout the year, this to Homeland Security. If I didn't do it there would be hell to pay from the FAKE NEWS MEDIA!"
Trump has reportedly donated other salary payments to departments including that of Education, Health and Human Services, Transportation and Veterans Affairs.
The third quarter of last year's salary was donated to the National Institute on Alcohol Abuse and Alcoholism. By law, the president must pay out his $400,000 annual salary.
It wasn't clear as to which quarter of the year this $100,000 originated from. The comment section revealed that people didn't care though because of other leisure expenses far surpassed the donated amount they claimed.
Meanwhile, Jim Carrey also criticized Trump following the horrific tragedy that occurred in New Zealand last Friday. An Australian terrorist opened fire at an Islamic mosque in Christchurch and killed 49 during Friday prayers.
The 87-page manifesto written by the killer was released to the public. In it, he called Trump "a symbol of renewed white identity and common purpose."
Carrey posted a photo of Trump's head with a swastika sign in the middle of the forehead. The object barrelled through space towards earth while the moon cried in the corner.
Carrey wrote:
"Innocent people are now being slaughtered, families ruined and childrens' lives destroyed. All in his name. If the Craven Republican Senate allows this vile miscreant to continue encouraging divisiveness [sic], the 'Trump Presidency' will become an EXTINCTION LEVEL EVENT."
Following the attack, the president dismissed the theory that white nationalism was growing into a dangerous threat. Instead, he called for unity and acceptance of Muslims.
He wrote:
"My warmest sympathy and best wishes goes [sic] out to the people of New Zealand after the horrible massacre in the Mosques. 49 innocent people have so senselessly died, with so many more seriously injured. The U.S. stands by New Zealand for anything we can do. God bless all!"
The tragedy was allegedly carried out by a man in his late 20s who chose New Zealand specifically because it is known as one of the safest places worldwide.
Although he showed support for Trump as a white leader, the terrorist said that "as a policymaker and leader" he would not approve. "Dear god no," he stated in the cynical document.
Please fill in your e-mail so we can share with you our top stories!