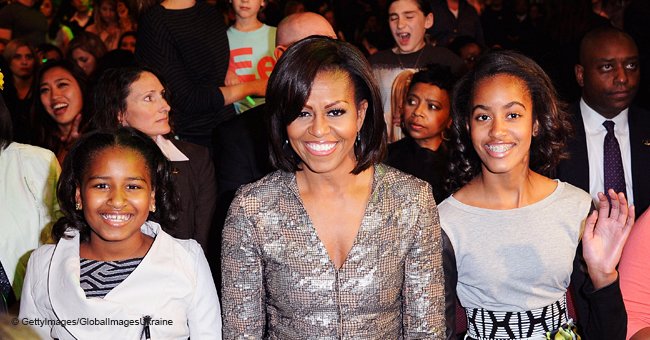 Michelle Obama Admits Daughters 'Had to Sacrifice a Lot of Their Childhoods' in a Frank Interview

There are lots of pressures in life, and being the first family of the United States means you have dozens of it. Add children to the equation, and everything gets magnified.
Former First Lady, Michelle Obama, reveals new facts about the time her family spent in the White House. This time, the focus is on her daughters. In the recent podcast of Conan O'Brien, the former First Lady spoke on dealing with the difficulties that came with having children living at the White House.
The former first children, Malia, 20, and Sasha, 17, spent their early years in the White House. Therefore Michelle and President Barack Obama had to try to create a natural haven for them.
Michelle spoke on regularly having to remind her daughters to live like they were ordinary people by going to school, eating their food, and appreciating what they have.
The 54-year-old said Obama and herself did their part by going for parents teachers' conferences, even though they went with an entourage of security personnel. The first couple also created time to attend games and sit in the bleachers.
Obama also made known that they encouraged their girls to bring their friends over to the White House, even though they thought no one would want to have a sleepover with them.Malia and Sasha are now young adults, and the author could not be happier. The proud mother said her children inspired her with the way they handled themselves when they served their country; acknowledging that they gave up a lot of their childhood living in the spotlight and under scrutiny.
The Harvard graduate said it made the girls tough and they handled everything with "Poise and grace."
O'Brien shared the interview on his Instagram page, and there were comments like "Great reviews," "This was fantastic," "Wonderful," and "One of the best podcasts ever."
Obama who has also been singing her daughters' praises on her "On Becoming" (newly-released memoir) book tour, shared her thoughts on running for office. The mother of two, who wrote about losing her anonymity when their family status changed, said she loves being an ordinary person again, and will not give that up to be President.
Michelle acknowledged that her family will always be in the public eye, adding that eight years is more than enough, and she and President Obama are focused on training the next generation of leaders.
Please fill in your e-mail so we can share with you our top stories!