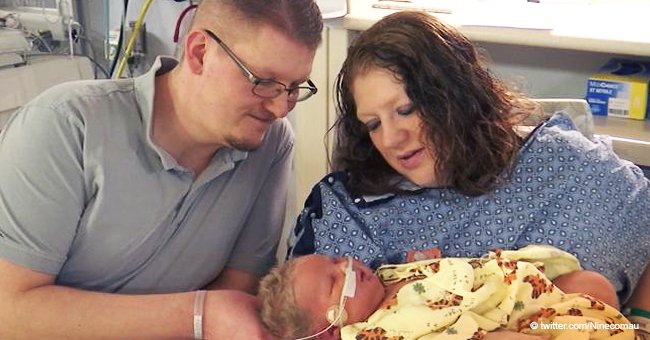 Woman Who Was Told She'd Never Have Babies Shares What It's like to Deliver an Enormous 15-Lb Girl

With some much-needed assistance, a new mother gave birth to a baby girl that weighed as much as a six-month-old in New York.
When Joi Buckley went into labor with her daughter Harper at Arnot Odgen Medical Center in New York on Monday, she never expected it to go the way it did.
Being a big baby, Harper needed some assistance in joining the rest of the world. After numerous doctors, a medical "vacuum" and a C-section, Joi delivered a 15lbs 5oz, 23.2-inch baby girl.
"I felt like I was hit by two tractor-trailers," Joi told The Post. "It was pretty violent. She got stuck under my ribcage."
Baby Harper is the biggest baby ever born at Arnot Odgen Medical Center. "I knew she was going to be big, but I didn't anticipate no 15-pound baby," the new mum said.
Currently being monitored in the Medical Center's Neonatal Intensive Care Unit, doctors are keeping an eye on Harper's oxygen and sugar levels, and she is otherwise doing well.
Initial news of her pregnancy was a shock to Joi as she's had problems with conception and told it would be exceedingly difficult for her to conceive.
The couple made their resolve with the outcome and adopted a girl seven years ago, but two years ago they received shocking news.
Joi was pregnant. She was elated with the news and gave birth to their son, who tipped the scales at 11 pounds at birth. When she became pregnant with Harper, the last thing expected was to give birth to possibly the largest baby in the Empire State's history.
But for Joi, it was a dream come true. "The thing I've always wanted to do is be a mum, and finding out for the first time I was overjoyed," she said.
Harper's closest recent rival in size was born in Russia without any help last year and weighed in at 13lb 14oz.
According to the Guinness World Records, the heaviest recorded baby got delivered in Aversa, Italy by Carmelina Fedele in 1955 and weighed an astonishing 22lbs 48oz.
Another extraordinary birth took place in Houston, Texas on Friday morning. At the Women's Hospital of Texas, Thelma Chiaka gave birth to sextuplets within nine minutes. One set of twin girls and two sets of twin boys were born between 4:50 a.m. and 4:59 a.m.
The hospital's press release stated that Thelma is doing well, her six new bundles of joy weighed between 1lbs 12oz and 2lbs 14oz each at birth, in a stable condition and receiving treatment at the hospital's advanced neonatal intensive care unit.
Eagerly awaiting the names of the four boys, Thelma already shared the names of her two daughters, Zuriel and Zina. The odds of having sextuplets is 4.7 billion to 1 according to the hospital.
Someone who knows all about raising sextuplets is the reality star, Kate Gosselin and she returns to reality television on TLC with a brand new show.
Please fill in your e-mail so we can share with you our top stories!