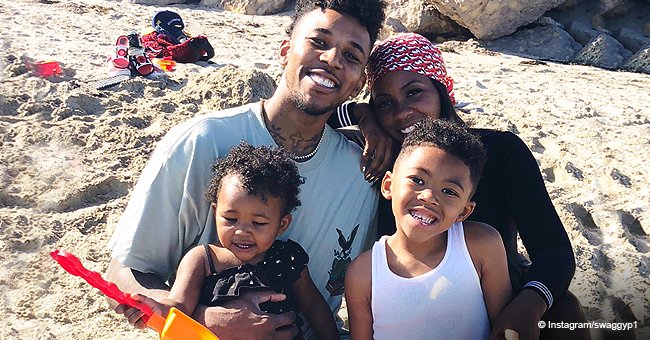 NBA Player Nick Young Announces He & Girlfriend Are Expecting Baby No. 3
Nick Young and his longtime on-and-off girlfriend, Keonna Green, are expecting their third child, the NBA star announced on Twitter.
The former Denver Nugget shooting guard has been spending some time at home after the team waived him last December, according to ESPN. And as a result, it seems like he and Green made use of his free time wonderfully.
The couple is now expecting their third child. They already share 7-year-old son Nick Jr. and 2-year-old daughter Navi.
Young, announced the good news on Twitter, eliciting some laughs and many congratulations from his fans and colleagues thanks to his choice of words, as he wrote: "Num 3 is on the way ... I knew being at home this would happen lol."
One user wrote, "It's all fun and games till she tells you 'guess who's pregnant.'"
While another added, "Shot percentage still high, I see you, Nick."
And a third one chose to point out how Keonna remains an unmarried woman despite being the mother of Young's three kids:
"Are you going to commit to that woman or have her forever looking crazy?! 3 kids and no commitment yet....you said it yourself your parents have been together forever..put some respect on her before she finds someone else who will!!"
Although Nick and Keonna have known each other since high school, the former dancer and fashion designer was put on the spotlight as a "side chick" when she confirmed her second pregnancy amid Young's split from former fiancé Iggy Azalea.
"Me and Nick have lots of history," Green told Essence two years ago. And continued:
"We've been in and out of each other's lives, and we've dated other people, we have still always managed to keep in touch. It's something that no one will be able to understand. We don't even really understand. We're just like, 'You know what, we have these kids. You know, we are friends.' We share each other's deepest, darkest secrets. We talk a lot. We have that type of friendship."
Since then, the couple has been going strong and seem to be committed to each other, even if there's no sign of marriage being in the works.
A few weeks ago, the 33-year-old NBA star told US Weekly that he was looking forward to having "one more child," so maybe he already suspected of Green's pregnancy or was waiting the right time to confirm the news.
He also revealed that the best part of being a father is becoming his son's "best friend," and added:
"That's like the best thing ever. Just being home and seeing them grow up, you know? The other day, I saw him … buy a Valentine's gift for somebody. I thought that was the best thing."
Congratulations to the couple!
Please fill in your e-mail so we can share with you our top stories!