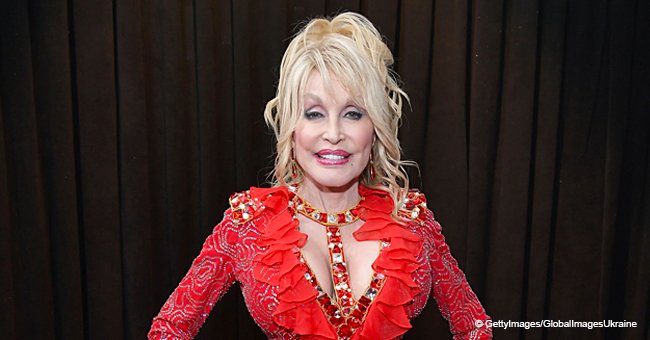 Dolly Parton Donates $200,000 to Volunteer Fire Departments for Their 'Brave Service'

The iconic country singer recognized the heroic work of Tennessee firefighters during the 2016 wildfires with a generous donation through her My People Fund, originally created to help families that lost their homes.
On March 16, 73-year-old Dolly Parton had a meeting with all of the Fire Chiefs in Sevier County at Dollywood, to present them with $20,000 to each volunteer fire station and $40,000 to their area training center, for a total of $200,000.
Tim Baker, Chief of Waldens Creek Volunteer Fire Department and President of the Sevier County Fire Chiefs Association gave a speech to thank in behalf of his mates and revealed that they already knew how to put the money to good use.
"The VFD will use part of the money to purchase gear and part of the money to replace the roof on the station," Baker said. According to him, the training center will use the donation to build a new classroom.
The Tennessee House of Representatives used the opportunity to acknowledge the "Jolene" singer for giving back to the community, honoring Parton as one of the state's most beloved and accomplished daughters.
Tennessee State Representatives Mark White, Dale Carr, Ron Travis, Andrew Farmer, and Robin Smith were there to recognize Parton's charitable work.
"It is only fitting that the last of the My People Fund will go to those who were the first to respond to the fires."
-Dolly Parton, Dollyparton.com, March 18, 2019.
Parton's My People Fund was established by her Dollywood Foundation in response to the 2016 Sevier County wildfires that caused the destruction of several family homes in the area.
The fund aimed to relieve the families financially while they recover from the material loss. It vowed to provide $1000 every month to each affected family for six months.
The 2016 Smoky Mountain wildfire hit Sevier County on November 28, leaving 14 people dead and damaging or completely destroying around 2,500 structures.
"In an 8-hour window from 6 p.m. to 2 a.m. over 2,500 structures caught fire. That's more fires in one 8-hour window that some firefighters will see in two or three careers," recalled Gatlinburg fire department chief Greg Miller.
"If you break that down, that's a structure every 19 seconds," Miller pointed out, stressing out the great challenge the firefighters faced that day.
"This is much bigger, much faster than we were advised that it could be, and it caught everybody off guard. Nobody could have anticipated the magnitude of this and once it started," Miller added.
Dolly Parton was born and raised in a very humble family in rural Tennessee's Great Smoky Mountains, the fourth of 12 children.
"We didn't have any electricity… if fireflies were out, we'd catch them in a mason jar and put them in our bedroom!" Parton once shared.
Parton left her hometown Sevierville for good when she turned 18, but she has always been committed to giving something back to the community that saw her grow up to be a talented singer.
Thanks to her theme park "Dollywood," Parton is currently the largest employer in the entire county. She also founded the Imagination Library charity in 1995 to help supply books to preschoolers, something that made her father very proud.
Please fill in your e-mail so we can share with you our top stories!