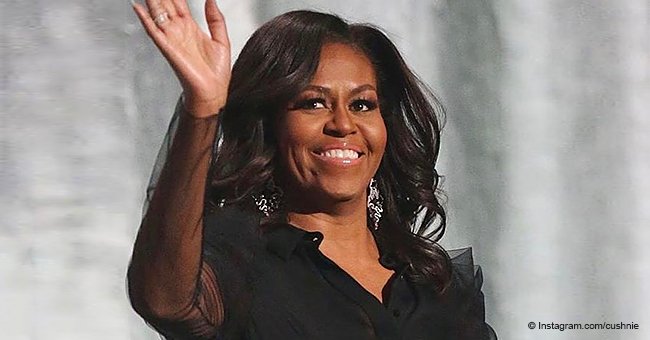 Michelle Obama Slays the Day, Flaunting Toned Arms in Sheer Top by a Black Designer
Michelle Obama has always been a fashion icon looked up to by many, and thanks to her book tour, people have been seeing more and more fashion statements from the former First Lady. This time, she showed off her toned arms in a sheer black top made by one of her favorite Black designers.
While Michelle Obama has been seen wearing creations from multiple designers both big and small, she has been frequently wearing the creations of Cushnie, a Black designer whom Obama and her stylist Meredith Koop have been opting to trust with her outfits recently.
Now, Koop dressed Michelle in an all-black ensemble, featuring a black v-neck blouse with sheer sleeves that showed off her toned arms.
Michelle has been busy touring different US states for her "Becoming" book tour. While of course, she talks about the content of her book, the 55-year-old author also occasionally shares some personal bits and pieces of her life.
MICHELLE'S HILARIOUS CONVERSATION WITH HER MOM
During her book tour stop in Phoenix, she shared how despite all her accomplishments, her mom, Marian Robinson, still doesn't think she's a star.
After finding out that her daughter did a guesting at the Grammy's, the 81-year-old asked: "Did you meet any of the real stars or did you run right after you were done?"
While she shared it with her fans in Phoenix, she also felt the need to share it with the rest of her social media followers.
"@michelleobama: When your mom doesn't think you're a "real" celebrity..."
MICHELLE'S GRAMMY AWARDS APPEARANCE
Aside from promoting her book, Michelle delivered a moving speech about the importance of music and how it's helped her live through different times in her life.
"From the Motown records I wore out on the South Side to the 'Who Run the World' songs that fueled me through this last decade, music has always helped me tell my story."
She continued her speech, saying:
"Music has always helped me tell my story and I know that's true for everybody. Whether we like country or rap or rock, music helps us share ourselves, our dignity and sorrows, our hopes and joys. It allows us to hear one another, to invite each other in. Music shows us that all of it matters: every story within every voice, every note within every song."
Obama's fans can expect to see her doing more appearances in the future, as she has scheduled dates for her book tour until April 2019.
Please fill in your e-mail so we can share with you our top stories!