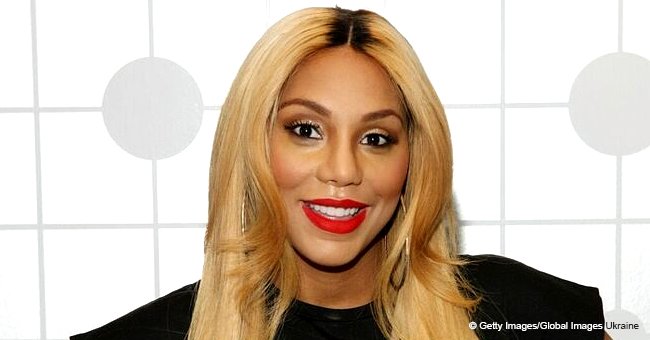 Tamar Braxton's Boyfriend Has Sweetest Reaction as He Supports Singer's Performance in New Video
Tamar Braxton's boyfriend Yemi had the sweetest reaction after seeing his lady love perform on-stage while intoxicated.
It doesn't matter whether or not Tamar Braxton is sober or drunk while performing, as she always comes through with a stellar performance regardless. Admiring his girlfriend for her amazing talent, Yemi was in awe as he sat front row in the audience.
During the singer's 42nd birthday, she hit the club with a couple of her closest friends, drinking and dancing the night away. Of course, the night would not have been complete without a performance from Tamar, and that's exactly what she did - while drunk.
TAMAR'S IMPROMPTU PERFORMANCE
The crowd went wild when Tamar belted out in song, and her boyfriend, Yemi, just stared at her in awe.
The businessman looked at his ladylove with so much love and admiration, and he could not help but stand up to dance and applaud her during her performance.
Braxton shared the special moment on Instagram, her caption explaining that one of her friends handed her a microphone after taking way too many shots of alcohol.
TAMAR'S NEW BOYFRIEND
After finalizing her divorce with ex-husband Vincent Herbert, Tamar is giving love another shot with Yami, whom she previously introduced on "The Wendy Williams Show" as "T'Challa."
During the episode, she revealed that she is happily in love with a new man, and is currently working on a new reality spin-off show of her own, aside from the staple "Braxton Family Values."
While many would think that "T'Challa" would star with her in the new show, it seems they won't be seeing a lot of him, since he is a very private person.
"He doesn't jump in front of the camera, he has no desire to be. He's in finance and not mine honey."
Meanwhile, the person her fans can expect to see in the show is her ex-husband, Vincent Herbert, because they currently co-parent their son Logan.
With Tamar's personal and professional careers in perfect harmony, the singer is not closing her doors on a future marriage, leaving it all up to God.
Please fill in your e-mail so we can share with you our top stories!