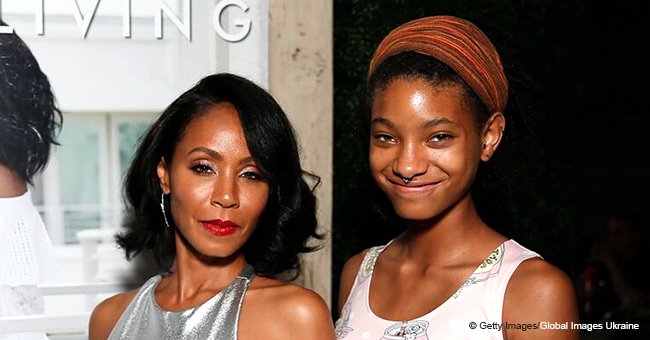 Jada & Will Smith's Daughter Willow Sparks Heated Debate after Flaunting Her Unshaven Armpit

Jada and Will Smith's daughter Willow has always been an open book, speaking her mind about controversial topics and being the first to break social norms. That is why after being spotted with armpit hair, she sparked a heated debate on social media.
Willow Smith has never been ashamed to speak up for whatever it is she believes in, even if that means other people won't agree with her. Now, she posed for a photo with her mom with her armpit hair visible, and it has sparked a heated debate amongst her supporters and those who believe she should get a wax.
WILLOW'S STANCE ON GROWING HAIR
Willow Smith has been growing her armpit hair for years now, even though her mom and grandmother would always volunteer to shave or cut it for her. As for what she thinks, she believes that if her ancestors didn't need to do it, then neither should she.
"I'm going to be like my ancestors and just do what i need to do."
Back in 2016, the teenager posed this question to her Instagram followers: "Why should I have to alter the natural state of my body to be seen as socially acceptable?" Up until today, that question remains the same.
When asked why she didn't like shaving, she also said that it takes up way too much time than she feels necessary.
"I mean I didn't really make the decision not to shave, I just kind of didn't shave. It takes too much time. I just want to get in the shower and get out of the shower. I'm going to be like my ancestors and just do what I need to do."
Fans and critics had a lot to say about her habit of not shaving, causing a heavy debate online.
"@prettydeb57: Willow can u please shave or wax them armpits"
"@tobyslimofficial: Hell naaw, I love Willow but, but armpit hair is a no no"
"@1queenmomma_: I love that she doesn't shave her armpits. so aware so young."
"@itss_melvisha: Y'all only defending arm pit hair cause she a celebrity let that be a regular person y'all would be laughing and [expletive] too goodbye"
WILLOW'S CONTROVERSIAL STANCE ON MONOGAMY
It's not just her physical looks that Willow is open about, but even her stance about relationships. During one of her mom's "Red Table Talk" episodes, she informed her mom Jada, grandmother Adrienne Banfield-Jones, and her best friend Telana Lynum, that she is not keen on having monogamous relationships.
It started with Jada asking the two best friends how they felt about monogamy, to which Willow responded:
"That feeling of 'you're my one and my only, there's no one else'… for me, that would not work."
Jada and the rest of the Smith family have opened up more controversial topics about their family through "Red Table Talk," and Willow is no exception. The two spoke about body image, relationships, and even sex.
With the way Jada and Wil speak to their kids about the most taboo topics, it is clear that the reason why Willow is able to speak for herself about these topics is because she is given the freedom to be herself and think whatever it is she wants to think.
Please fill in your e-mail so we can share with you our top stories!