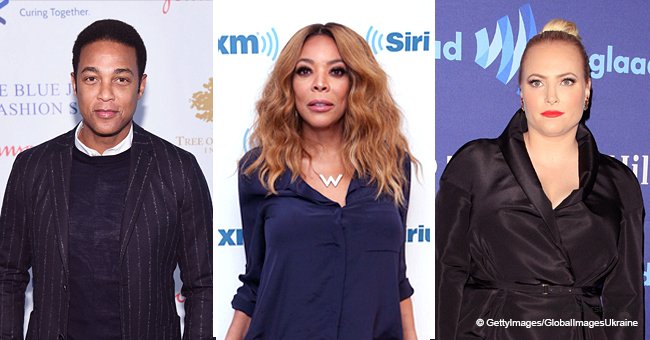 Meghan McCain, Don Lemon, and Others Tweet Support to Wendy Williams for Living in a Sober House

Wendy Williams in a candid reveal speaks about living in a sober house during her fight against drug addiction, and celebs are rallying behind her to offer support.
Wendy Williams is the host of the daytime show "The Wendy Williams Show." On Tuesday, the host, during a segment of her show revealed what she called "Her truth."
Williams started by saying together with her spouse, Kevin Hunter, the "Hunter Foundation" was created last week. The foundation was created to help people battling addiction.
The segment became touching as the television personality said that for a while, she has been dealing with addiction and living in a sober house. The fact she revealed, was known only to her spouse and son, Kevin Hunter Jr.
Williams told her audience that having a glamorous life helped to hide her struggles, adding that she was a cocaine addict for ten years, but never went to rehab.
The mother of one credited her quitting cocaine to God, who she said sat "On her shoulder." Going on with her reveal, the host said she went to the Bronx for meetings with her 24-hours sober coach.
Those she met at the meetings did not care about her social status, and afterward, the coach droved Williams to a home in the Tristate, where she stayed with boys with poor hygiene. The revelation ended with the queen of tea saying that the Hunters Foundation so far, has helped put fifty-six persons in rehabilitation homes.
The 54-year-old's words resonated with a lot of people, fans and celebrities alike, and she has received a lot of positive feedback and words of encouragement.
Don Lemmon, a "CNN" anchor, in a tweet, referred to Williams as the bravest woman he knows, as she finally speaks out about recovery.
Meghan McCain tweeted that she was sending her colleague strength and love. "The View" co-host also wrote that having a struggle and sharing it on national TV was not for the weak hearted.
Williams' announcement is coming weeks after she returned to her show. The New Jersey native was away for two months, which led to cheating rumors.
Upon her return on March 4, the Northwestern University alumnus, debunked the rumors, saying she was dealing with health issues, and a shoulder injury. The presenter told her audience that she missed them and didn't know what to expect, adding that she was grateful they waited for her and understood her reasons.
We are sending Williams good vibes as she recovers, and wish her well.
Please fill in your e-mail so we can share with you our top stories!