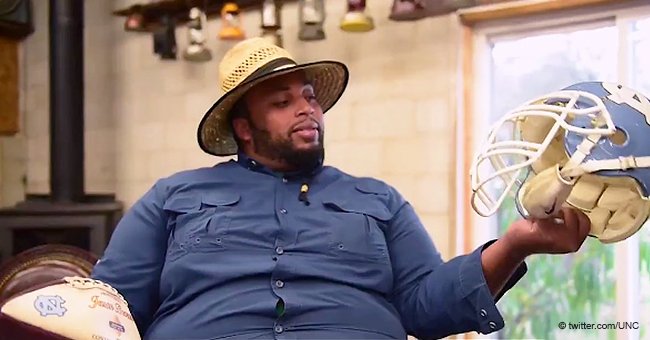 Here's Why a Former Top NFL Star Decided to Quit His $37 Million Career and Become a Farmer
At six-foot-three and 320 pounds with seven years behind him as center for the NFL's Ravens and Rams, it was a big surprise when he decided to give up his $37 million contract to become a farmer.
"Never stop giving, never stop loving, never stop growing," Jason Brown says in an interview with NBC Nightly News.
In the same interview he said, "When I turned 27 years old, that was the same age that my older brother was killed when he was serving our country in Afghanistan and it really caused me to take an examination of my life. I wear a size 16 shoe and he wore a size 14 shoe and to tell you the truth I still couldn't fill his shoes."
Like his brother, he also wanted to serve. But he would take a surprisingly unexpected path.
Jason recalls, "I went to my wife and I said 'we've got it all wrong. We've got to get back to faith and family first."
While he had what seemed like everything as the highest paid center in NFL history at that time, he felt empty.
In an episode of Oliver North's American Heroes, Jason says, "We were living the lifestyle. When I got to the top of the mountain, we were lonely. I had bought into the idea that money could buy you happiness. I thought I was special, just like everyone else thinks they're special. I was no different. I was gaining the world, and losing my soul."
A devoted family man who was very religious, Jason decided he would serve by becoming a farmer. Crazy as it sounds, Jason hung up his cleats and bought a farm in North Carolina. He named it "First Fruits Farm" because the first harvest always goes to feeding the hungry.
When asked how he learned how to farm, he says, "When I tell people I learned to farm from watching videos on You Tube I get a lot of laughs, I get a lot of chuckles. I really don't want any type of notoriety other than for people to say, you know what that's just some kid from the country that could play a little bit of football but look what he's doing with his life right now."
In the same episode of Oliver North's American Heroes, Jason shared that growing up, he would help his father with his landscaping business, and at times would surprise neighbors by fixing up their lawn as soon as they leave for work in the morning.
He shares, "I saw from an early age that you can have an awesome impact on people through service."
This example of service set by his father could possibly have influenced his decision to make such a drastic change in his life from football star to First Fruits Farmer.
Please fill in your e-mail so we can share with you our top stories!