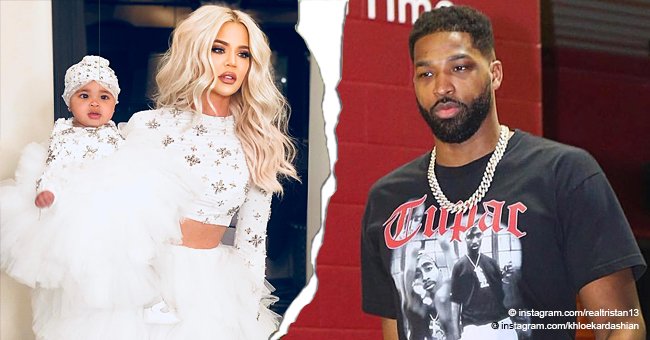 Khloé Kardashian Explains Why Tristan Thompson's Cheating Scandal Was 'Worth It'
Khloé Kardashian has certainly been through the wringer when it comes to her tumultuous with ex Tristan Thompson, but from that stemmed the biggest joy she has ever known.
The 34-year-old officially ended her relationship with baby daddy Tristan Thompson last month after he cheated on her with Kylie Jenner's best friend, Jordyn Woods. Bare emotions made their way onto social media updates from most of the parties involved as the drama unfolded.
Throughout the messy ordeal, the Kardashian sisters rallied around their sister, helping Khloé get through the break-up and move on with her life.
In light of everything that happened over the last year, a follower of Khloé on twitter sent her a thoughtful message on Monday that didn't go unnoticed or unappreciated:
Tristan and Khloé are yet to set up a formal custody agreement, but they have been co-parenting their 11-month-old daughter, True, peacefully since the break-up.
Most of True's time is spent with mum Khloé as she can have him with her at her work, while that is hardly an option for Tristan with his career. At the beginning of March, Khloé also expressed gratitude for the things she values in life:
A source told ET that where True is concerned, Khloé and Tristan are "on the same page" and Khloé will never deny Tristan seeing his daughter while living surrounded by her big family makes sense.
Trouble between Khloé and Tristan first came to light on April 10, 2018, mere weeks before Khloé gave birth to True. A video of Tristan, who looked like he made out with a woman most certainly not Khloé, made its way to The Daily Mail.
Unfortunately, that was not the end of his cheating spree as he also got filmed cheating on Khloé with two other women, which got posted by TMZ:
On September 26, 2018, Tristan got filmed again unable to resist his cheating ways as the eyewitness said, "Tristan and a girl were chatting and flirting throughout the night. They were very touchy-feely. He had his hand on her butt."
Despite all the cheating, Khloé always took him back, although things between them seemed shaky when Tristan ignored Khloé through most of New Year's Eve. But working things out appeared to be on the agenda up until the next cheating scandal broke.
In February TMZ reported that Khloé officially called an end to her relationship with Tristan after both he and Jordyn Woods eventually fessed up to what they did. And in the spirit of moving on Khloé puts all her focus into her work, family, and baby True, who is growing so fast. Recently Khloé shared new pictures of her daughter, and it's no surprise she stole the show.
Please fill in your e-mail so we can share with you our top stories!