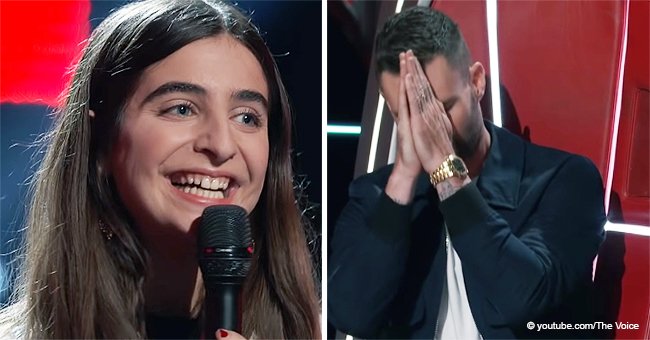 Adam Levine Calls Singer the 'Future' after She Turns All 4 Chairs with a Remarkable Performance

Adam Levine won a funny but intense battle against the other coaches for a young singer who he believes is the "future" of music in the last round of Blind Auditions.
Celia Babini was the only artist to receive a four-seat turn from the blind auditions of "The Voice" in Season 16 of the reality show. Her incredible performance left coaches Blake Shelton, Kelly Clarkson, John Legend and Adam Levine totally mesmerized.
The 17-year-old girl caused a long and amusing battle between the coaches looking to fill their teams on the final night of the blind auditions, which aired on the 40th birthday of the Maroon 5 leader.
Celia is a native of New York and the passion with which she sang from the first notes of "Idontwannabeyoueyouanymore" by Billie Eilish, caused the audience to be moved and all the coaches to find themselves irremediably turning their chairs.
The coaches compared the unique voice of Celia with artists of the likes of Fiona Apple and Florence And The Machine. However, the young woman decided to join Team Adam who received her choice as an important gift.
But before Celia had the last word, a battle arose between the leader of Maroon 5 and Blake Shelton, the coaches even resorted in a joking way to dirty tactics, trying to obtain the vote of sympathy of the talented contestant.
'It's my dream for you to win the Voice. It's just time for someone to be a different kind of winner for the show, 'Adam told Celia after her performance. Apparently, the coach's words managed to convince the young woman to join Team Adam.
"We're missing a Fiona Apple right now. There's a certain kind of intensity and a certain kind of raw power that singing can have. You embody all of that, from the way you perform, the way you sing, what you sing, how you sing it, the choices that you make," the coach added.
Season 16 of the singing competition has just started, and an 18-year-old contestant has impressed the Maroon5 singer so much as to call him his favorite from all seasons of the series.
It took only four seconds for Levine to turn his chair around to look at Domenic Hayes after he sang the first line of his chosen song, and he took the precaution of blocking Legend to keep him from stealing his new favorite.
Please fill in your e-mail so we can share with you our top stories!