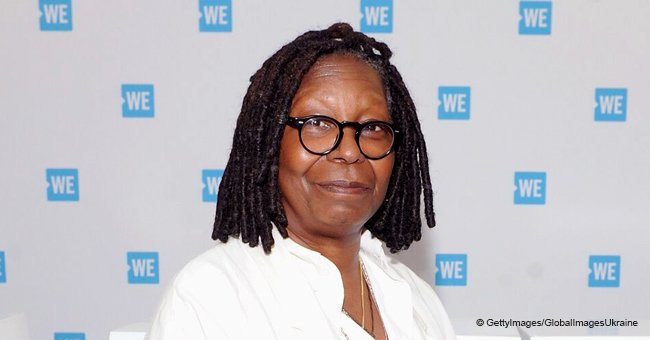 Whoopi Goldberg Goes off at President Trump after He Attacked Late Senator John McCain

Whoopi who had to take time off the TV show, "The View" to heal from life-threatening pneumonia and Sepsis is back and this time with full force. The hosts of the show had something to say about President Trump's weekend rants and banter towards late Senator McCain, and it was nothing pretty.
PRESIDENT DONALD TRUMP'S TWEET
On Sunday, the President of the United States who is known for his usual Twitter rants, took to his social media page to once again get at the Democrats. One of those who got dipped in the mud was Senator McCain who passed away a few months ago.
In a series of 29 tweets about the Steele Dosier, (a case where McCain was accused of allegedly trying to rat out that there were links between the Trump campaign and Russian officials) Trump lashed out at the late senator for his alleged involvement in the case.
Although McCain was exonerated of any link to the case, Trump seems to still hold a grudge against the dead man.
"Spreading the fake and totally discredited Dossier is unfortunately a very dark stain against John McCain. Ken Starr, Former Independent Counsel. He had far worse "stains" than this, including thumbs down on repeal and replace after years of campaigning to repeal and replace!" the President tweeted.
WHOOPI's REACTION
Actress and TV host, Whoopi Goldberg seemed exceptionally pained by how clueless Trump seemed to be when it comes to some political matters. She was angry at his tweets on Sunday which were targeted at one of her co-hosts and friend, Meghan McCain's late father.
Goldberg who referred to the President as "the man in the white house" said:
"Crazy stuff is happening in the world ... I mean, what the hell?! I mean, really, what is going on? What are you doing?! ... You're missing the point and what your job is supposed to be."
The 63-year-old also confessed that her strong opinions on the matter could be as a result of her near-death experience.
WHAT THE OTHER HOSTS THOUGHT OF THE TWEETS
Although Whoopi's opinion seemed the loudest of the bunch, the other co-hosts of "The View" also aired their displeasure at POTUS' tweets.
One of the co-hosts, Meghan McCain (daughter of Senator McCain) who tweeted at Donald Trump after his tweets explained why she chose the words in the message she posted on her page.
"No one will ever love you the way they loved my father.... I wish I had been given more Saturday's with him. Maybe spend yours with your family instead of on twitter obsessing over mine?" Meghan tweeted.
According to Meghan, her father was a great man who knew the importance of spending time with family during the weekend which President Trump can't comprehend.
Whoopi ended that segment of the show on a light note but not after she passed her message.
Please fill in your e-mail so we can share with you our top stories!