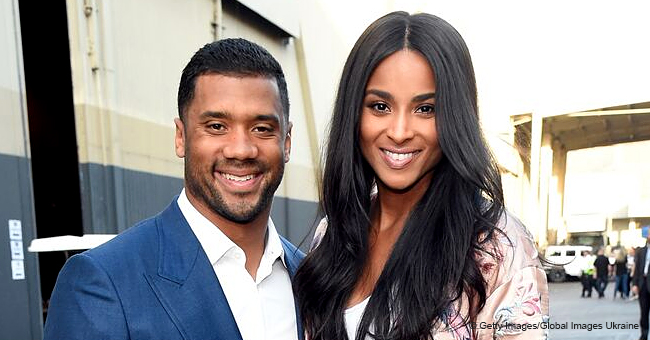 Ciara & Russell Wilson's Baby Girl Sienna Sparks Joy in Black Dress & Floppy Hat in Precious Video

Sienna Princess Wilson, the one-year-old daughter of singer Ciara and NFL player Russell Wilson, melted people's hearts in a new post that her mother shared on Instagram.
The girl, born on April 28, 2017, is Ciara and Russell's only daughter. The couple welcomed her to the world almost a year after tying the knot – March 11, 2016.
As most proud mothers do, the singer has uploaded many photos and videos of the girl on social media. One of the most recent ones was a slideshow, and it portrayed Sienna wearing a black dress and a matching floppy hat.
MELTING PEOPLE'S HEARTS
In the short clip, the girl looked hilarious with the oversized hat. She turned around shaking a little box of raisins and walked to her mother as if she asked for her help to open it for her.
Once Ciara did it, Sienna picked up one, ate it, and walked back to the spot she initially was. In the caption, the proud mother wrote, "Who's That Lady?" referring to the Isley Brothers' song that she edited in the background of the clip.
The second part of the post was a photo of the girl sitting on the steps of the family home wearing the same outfit and trying to get more raisings from the little box.
WEARING HER MOTHER'S WIG
It is not the first time that Sienna has made her mother's followers laugh. Last month, Ciara uploaded a video showing her one-year-old daughter walking around the house wearing a long wig.
Her hairpiece, which was obviously Ciara's, could almost touch the floor, an aspect that made Sienna look both funny and beautiful. The girl wanted to be noticed, so she walked to a group of people who couldn't stop praising her.
Reaching the end of the clip, the girl turned to the camera so that her mother's followers could take a better look at her, too. "I just can't. Princess Sienna is too much. The Lace ain't ready," wrote Ciara in the caption.
In the short clip, the girl looked hilarious with the oversized hat.
WISHING MORE CHILDREN
Even though the singer has two children – four-year-old son Future Zahir from her relationship with rapper Future and Sienna – she recently revealed that she wanted to have "as many kids" as possible.
Ciara said that her children kept her young and active. They give her "purpose" and "make it all make sense." Apart from that, she admitted to feeling unbalanced if her children are not with her for "a decent amount of time."
Finally, the singer said that she couldn't function to the best of her ability when her family is not around.
Please fill in your e-mail so we can share with you our top stories!