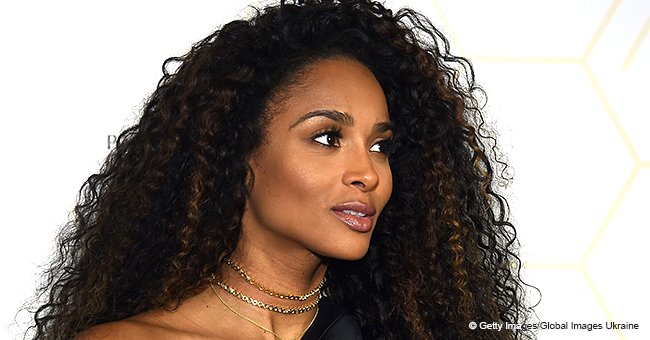 Ciara's Daughter Sienna Channels Her Inner Cici as She Walks around Wearing Mom's Wig
Singer and model Ciara, who is married to NFL player Russell Wilson, took to Instagram to share a clip of her daughter Sienna wearing her mother's wig.
In the video, the one-year-old girl appeared walking around the house in a black ensemble covered with a pink dress with Ciara's long wig. The hair could almost touch the floor, and the girl looked hilarious yet beautiful.
She walked to a group of people so that they could see her wearing such a beautiful outfit and praise her. Once Sienna was in front of them, she turned to the camera so that her mother's followers could see her, too.
For the caption, the proud mother wrote, "I just can't. Princess Sienna is too much. The Lace ain't ready." As soon as she shared that clip, her followers took to the comment section to express their thoughts.
"Absolutely gorgeous, just like her parents," admitted one user.
"This is Great! I love it! God Bless you and your Beautiful family Ciara. Thanks for sharing all of your Beautiful moments," pointed out a second follower.
"Soo done right now! I am literally laughing so hard that I am crying!" revealed another person.
Sienna is Ciara and Russell's only daughter. The girl was born on April 28, 2017, almost a year after her parents tied the knot. Apart from the girl, Ciara has a son from her previous relationship with rapper Future.
NOT SHARING HER MOTHER
It is not the first time that Sienna melted the hearts of her parents' followers, though, Russell recently took to Instagram to share a short clip of him trying to kiss Ciara while the singer got her daughter in her arms.
However, Sienna is not the type of person who shares her mother, so she kept pushing Russell away and kissing Ciara while giggling in the cutest way. In the caption, the NFL player joked saying that he was trying to make baby number three but "baby number 2 stoppin' it."
RUSSELL'S #GREATESTLOVE REASONS
Although Sienna might prevent Russell from kissing Ciara, the man set clear in a post how much he loves his wife, even listing the reasons why he considers the singer is his greatest love.
First, he said that Ciara inspires him to do good because she makes the world a better place. Russell then pointed out how a good mother she is to her children, that she strengthens his faith, and that she was the sexiest woman in the world.
The proud wife couldn't help but comment in the video saying that he made her face hurt from smiling and even wrote, "you always make me speechless," finishing with the hashtag "blessed."
Please fill in your e-mail so we can share with you our top stories!