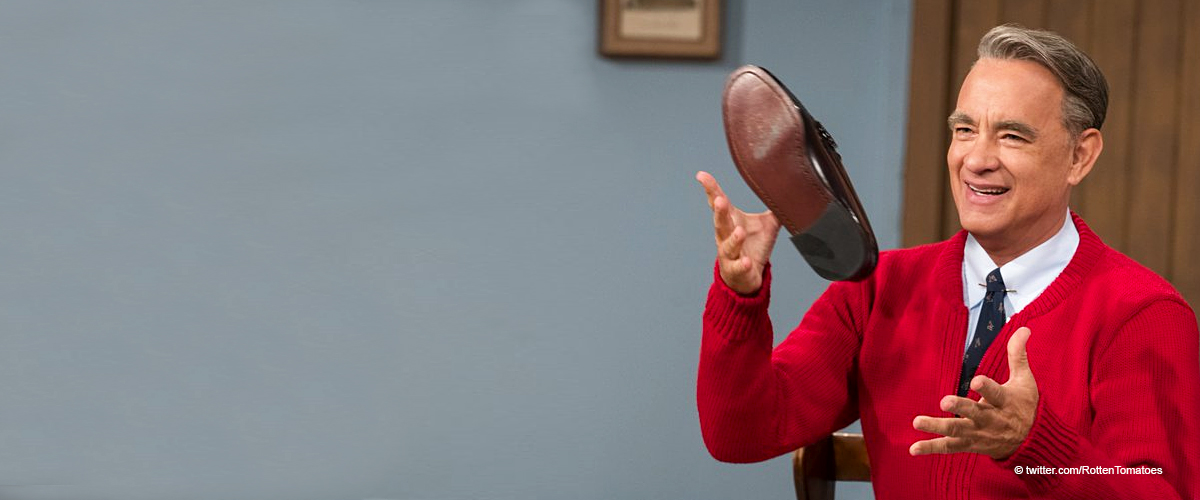 Tom Hanks Bears a Strong Resemblance to Mr Rogers in a New Photo on the TV Icon's Birthday
On Wednesday, Sony Pictures/TriStar released a new photo from an upcoming film. In the movie, Tom Hanks acts as Fred Rogers.
The release coincided with the late PBS icon's 91st birthday. In the image, Hanks was dressed up to strongly resemble the legendary television personality.
Oscar winner Tom Hanks, 62, will be playing Mr. Fred Rogers in the upcoming Sony film "A Beautiful Day in the Neighborhood." The television network announced the news with a photo depicting Hanks as the late star.
The actor was made up to look like Rogers by wearing a red cardigan, khaki pants, a collared shirt, and tie. In the photo, Hanks smiled while styled in television icon's memorable coiffed, gray hairstyle.
The image was shot as Hanks tossed a shoe in the air. The new film was directed by Marielle Heller and is based on an article written by journalist Tom Junod.
The article was written by Junod after he met Rogers. The pair formed a strong friendship over the course of their lives before the star died in 2003.
The movie will also feature Matthew Rhys who will portray Junod. Rhys will act like a jaded magazine reporter who is assigned to profile the children's TV show host.
The actor will him be seen overcoming his skepticism while learning valuable lessons from Rogers' about empathy, kindness, and decency. Despite its undertones, the film won't be a biopic.
Heller explained:
"[This] movie is…. not a biopic. I disliked that when it got announced it was characterized as such. It's really not. It's a movie that's largely focused on a reporter and [Mr. Rogers'] relationship to his life, and how [the reporter's] whole world changes when coming in contact with Fred Rogers."
Fans can watch "A Beautiful Day in the Neighborhood" in theaters on November 22.
Fred McFeely Rogers was the star of the long-running children's series "Mister Rogers' Neighborhood." He was also the subject of the documentary "Won't You Be My Neighbor?"
The documentary premiered at last year's Sundance Film Festival and it became a hit at the summer box office.
Please fill in your e-mail so we can share with you our top stories!