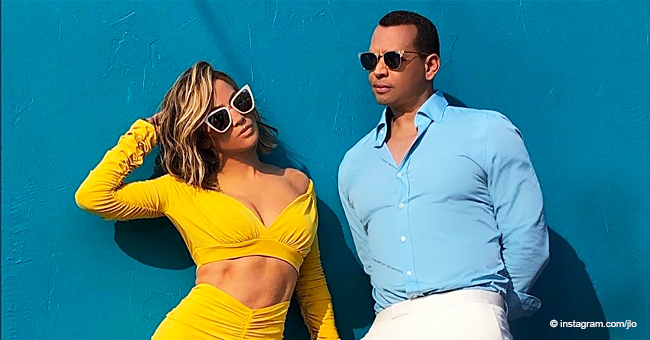 Jennifer Lopez Finally Breaks Silence on Her Long-Awaited Engagement to Alex Rodriguez

Jennifer Lopez finally spoke about her recent engagement to Alex Rodriguez after sharing several photos of the grand occasion on her social media.
The drop-dead gorgeous singer and her partner of two years got engaged earlier this month in a sweet proposal on the beach.
Rodriguez, 43, posted the photo with a simple caption saying, "she said yes." Those three words were enough to make our hearts leap for joy and to confirm Lopez' recent sentiments.
"We're really happy," she told PEOPLE in an interview this week. Lopez, who has 11-year-old twins Max and Emme while Rodriguez has daughters Natasha, 14, and Ella, 10, regularly shares family pictures that seem to show genuine bliss.
She continued :
"Everything that we do, we do together. He knows my dreams and I know his dreams, and together we feel like we're stronger."
One dream the two share is the ambassadorship for Quay Australia, an eyewear line that the pair has already done a shoot for. Quay x JLo and Quay x ARod are already out in stores.
Lopez, 43, further stated: "We have [an] appreciation for where we are in our lives today, and that's what we're enjoying the most." The singer and dancer is currently a judge on the "World of Dance" and Rodriguez is a top sports analyst.
She continued:
"We're constantly supporting each other in our individual endeavors and thinking about all the things that we can build together."
Prior to the eyewear label, the couple collaborated for a "#10DayChallenge" no-sugar, no-carb diet project through their Instagram accounts. Rodriguez already has a fitness clothing line going for him.
The former Yankees baseball player said:
"I don't have to play 162 games anymore, so I have a lot of time on my hands."
Last week, the couple had time to take a private jet and celebrate their engagement with a getaway to the Bahamas. The businessman went all out for the occasion.
He set up a table arrangement with powdered donuts with diamonds on them and a champagne bottle in ice. Next to it, a small chalkboard commemorated their engagement date.
Silver balloons spelled out "Congratulations" elsewhere on the plane. The singer loved the adorable mementos that she'd gotten. At one point she screamed into the camera: "So cute!"
People were surely saying "so hot" when they saw the couple's latest shoot for Quay Australia. Lopez wore a long-sleeve mustard top which stopped just below her bosom.
The low cut piece allowed her to flaunt her toned midsection and teased a belly button. She wore a matching skin tight skirt with it. Meanwhile, Rodriguez wore a baby blue button-down shirt and white pants.
Of course, each had on a pair of sunglasses. Lopez' own was a white-rimmed Reina sunglasses reportedly worth $55. Rodriguez rocked a $60 pair of Evasive sunglasses with grey-colored rims.
Lopez rested on her beau in a seductive pose with one hand holding his thigh while the other held his hand against her hip. It looks like the hot couple is in for a steamy honeymoon in the future. We can't wait for the wedding.
Please fill in your e-mail so we can share with you our top stories!