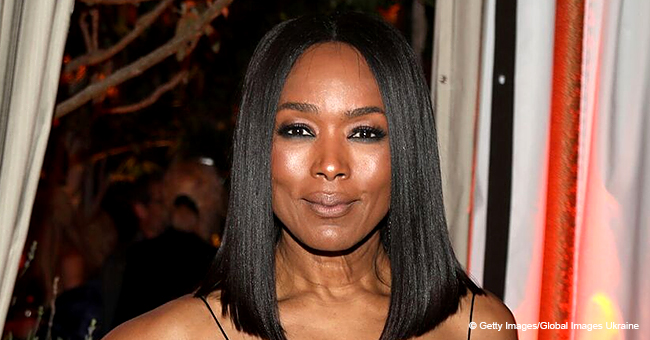 Angela Bassett Doesn't Look a Day over 60 as She Shows off Her Toned Body in Green Tracksuit
Actress Angela Bassett, best known for portraying Tina Turner in "What's Love Got to Do with It," shocked everybody with her toned body in a green outfit.
Even though the actress is 60 years old, she has demonstrated many times that age is just a number for her. In most of the photos on her Instagram page, she looks like a 35 or 40-year-old lady.
Not only her face and skin look juvenile, but she has also worked out a lot to make her body look beautiful, and the recent photos shared on the Shade Room are proof of it.
ROCKING A TRACKSUIT
In the slideshow, Angela appeared wearing red and white shoes and a green tracksuit. Apart from her strong-looking legs, her top showed a small section of her belly, and it also looked toned.
For the second pic, the Golden Globe Award-winning actress is shown giving a side-eye to the camera, making her look both tough and gorgeous. It is not the first time that Angela's looks are a matter of discussion, though.
SHARING BEAUTY TIPS
In her efforts for making other women look as good as she does, the actress shared some of her "beauty secrets." One of the things she suggested was to stay away from dairy and bread flour as much as possible.
Unlike many other people, Angela pointed out that diet was "85 percent of the whole thing." Instead of common bread, she eats Ezekiel bread. While talking to TV host Laila Muhammad, Angela disclosed some of the foods she eats daily, and veggies are a huge part of her diet.
"Monday, Tuesday, I may eat carbs, fruits; Tuesday, Wednesday, protein, veggies — veggies every day — no fats those four days, and then the last three days, I flood it with fat. Good fat, though: maybe coconut oil, salmon, almonds, almond butter, olive oil, that sort of thing," admitted the actress.
Of course, she has to work out to look that good. In the same interview, Angela pointed out that she has a personal trainer, saying that she has to pay to show up because she doesn't want to waste her money.
In most of the photos on her Instagram page, she looks like a 35 or 40-year-old lady.
STUNNING IN A RED GOWN
Recently, Angela attracted a lot of attention during the televised tribute concert for Aretha Franklin. The actress stunned in a strapless red gown that did more than flaunt her fabulous body and ageless beauty.
Bassett graced the stage next to her husband, actor Courtney B. Vance, during the CBS special to honor the late Queen of Soul. She wore a beautiful red gown featuring ruffles around the waist.
Apart from that, her long and curly hair was flowing over her bare shoulders, which made her look even better.
Please fill in your e-mail so we can share with you our top stories!