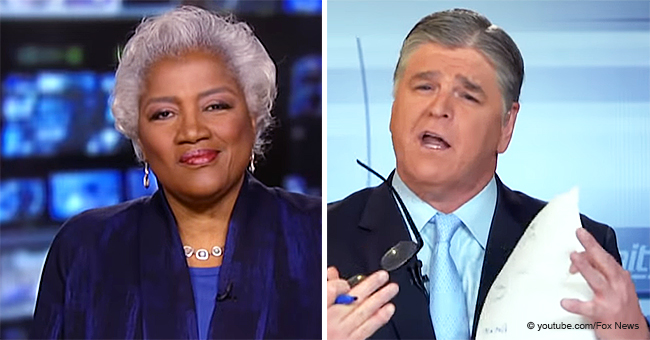 Fox News Viewers Outraged, Turn off Their TVs during Donna Brazile's First Appearance This Week
Fox News channel is one step closer to being canceled by their regular viewers and it all happened after Donna Brazile had her first segment since being hired by the network.
Former CNN contributor Donna Brazile is already facing a frenzy of backlash for her first discussion on the conservative network, Fox News. Host Sean Hannity is also receiving criticism.
During the "Sean Hannity" show on Tuesday, the host attempted to go through a lightning round with Brazile. He asked about topics like late-term abortions, Medicare, the Green New Deal, and the border wall.
Brazile, who used to be the chief of the Democratic National Committee, admitted that she couldn't answer the questions quickly. Hence, she danced around nearly all of them in some shape or form.
On Twitter, disgruntled users expressed their frustration. One person said that Hannity was "on a two-week suspension" at his home. Another indicated that this show joined a list of other Fox News shows they stopped watching.
Many people opined that Fox News was turning into something ugly and compared it to CNN. Others explicitly stated that they were "absolutely done [with] Fox."
According to the viewers, Fox was completely wrong to hire Brazile and let her have a chance to speak on the platform. "We change the channel every time Donna Brazile comes on," someone said.
Regarding the Green New Deal, Brazile said it's something that "should be debated" and that climate change must be addressed.
When asked about late-term abortions she responded :
"Democrats believe that this is a choice that women should have a say in. We believe that women should have the full range of health services. I am not a doctor and I am not going to tell anyone what to do with his or her body."
Brazil also said that Immigration and Customs Enforcement (ICE) needs to be reformed in reply to whether or not they're doing a good job and that the border wall will not solve the illegal immigration issue.
As a Democrat, many people wondered by Brazile was so "excited to join" the network. She left CNN when it came to light that she shared primary debate questions with Hillary Clinton during the 2016 presidential campaigns.
Brazile explained that her reason for joining Fox News was "rooted in the belief that you cannot make progress, let alone reach compromise, without first listening to, and understanding those who disagree with you on critical issues."
In an interview with the New Yorker, she further stated that following her leave from CNN in 2016:
"I wanted to have access to the TV world. I consider myself a pundit. I am not a journalist. I am a pundit with a partisan point of view."
Based on the reaction of Fox Network's viewership, however, it remains to be seen how long Brazile's tenure on there will last.
Meanwhile, a Fox News anchor came after the president for lashing out against her colleagues, John Roberts, and Gillian Turner.
Julie Banderas took to Twitter to respond to Trump who accused Roberts and Turner of having "even less understanding of the Wall negotiations" than CNN and NBC reporters.
Banderas said:
"By going on Twitter and insulting two of our journalists @realDonaldTrump is putting a target on their backs. In turn his followers will then attack @johnrobertsFox and @GillianHTurner in support on Twitter. Bullying journalists is not Presidential. Period."
Banderas also said that what Trump did was "not right" and her colleages don't deserve it. According to her, "they are not opinion journalists and deserve the respect from the @WhiteHouse they cover."
Please fill in your e-mail so we can share with you our top stories!