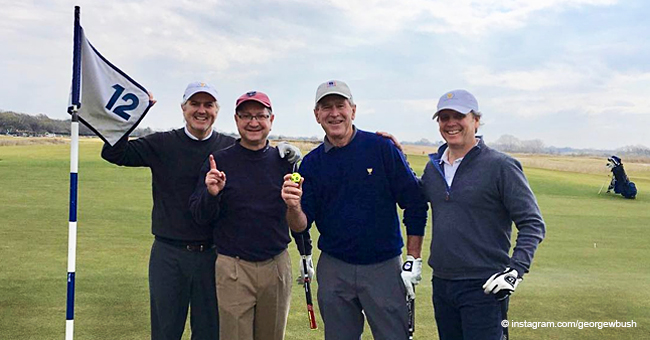 Ex-President George W Bush Adds a Special Moment on the Golf Course to His List of Achievements
Adding a feather in his cap, George W. Bush celebrated his first hole-in-one.
The former president took to Instagram to share the news of his accomplishment. He posted an image of himself holding a lime green golf ball alongside three other men on the green of Trinity Forest Golf Club in Dallas, Texas.
Thanking Bush Centre CEO Ken Hersh and board members Mike Meece and Bill Hickey for coaching him towards the achievement, he wrote:
"With coaching from @thebushcenter CEO Ken Hersh and board members Mike Meece and Bill Hickey, I scored my first hole-in-one at the home of our Warrior Open and the @attbyronnelson."
Bush made the hole-in-one from the 12th hole, a source reported. His new "golf goal" is to live to 100 so that he can shoot his age.
The former lawmaker's love of golf is apparent in his Instagram feed. Previously, he posted an image of himself smiling alongside former presidents Barack Obama and Bill Clinton when they jointly opened the 2017 Presidents Cup.
Previously, Bush spoke out about immigration, calling it "a blessing and a strength" during naturalization ceremony.
During the ceremony where dozens took the oath of allegiance to become US citizens, Bush pointed out how America's elected representatives have a duty to regulate "who comes in and when".
"In meeting this responsibility, it helps to remember that America's immigrant history made us who we are. Amid all the complications of policy, may we never forget that immigration is a blessing and a strength," he said.
Bush's wife Laura noted how the country is in "much richer state" for all the cultures that have settled in America during the event.
The former president's take on immigration is at the opposite end of the spectrum from President Trump's hardline immigration policies. Trump has claimed he could upend the constitutional concept of birthright citizenship.
Please fill in your e-mail so we can share with you our top stories!