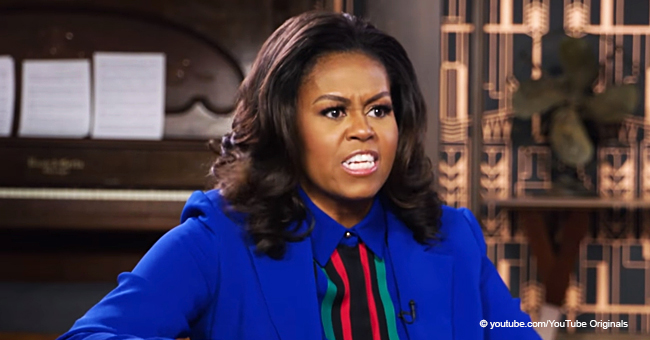 Michelle Obama Looks Radiant in a Stripy Blue Pantsuit While Discussing Her Marriage to Barack
Former first lady Michelle Obama rocked a blue Elie Saab pantsuit at a BookTube interview bringing her bright ideas, sunny disposition, and upbeat style.
Still very much the style icon, the former First Lady looked confident as she entered the room in a bright cobalt blue suit that gave off a modern, positive, and energetic feel. That pretty much describes what her personality is like, too. Her purposeful and strong stride and her warmth and connected approach to conversation made everyone in the room gush about the great opportunity it was to meet her.
Her book tour to promote her memoir, "Becoming", took her to Austin, Texas, where she met with author John Green and addressed her young audience. The intimate conversation showed Michelle's warmth and openness, and her ease in sharing very personal experiences in her life, like her marriage to the former president Barack Obama.
She spoke of the value of building a community of support and human connection of friendships apart from the primary relationship we have with a partner or spouse. The panel agreed with much enthusiasm when she shared how she would sometimes need a break from the former president and chat up a storm with her gal pals.
Kat, one of the participants asked,
"Was there anything about the process of writing that was unexpected?"
To which Michelle replied,
"I loved my process because I love collaboration. So a lot of it, the beginnings of it, before we started writing, I spent time with my Chief of Staff, with one of my former speechwriters, and with my collaborator, who I learned to trust. But we spent months and months together talking. So a lot of it was therapy, right?"
She continued,
"I needed to say stuff. I needed to have it heard, and then I could process it."
Both Michelle and her husband are strong communicators, and it seems their marriage has made it through 26 years with their true commitment to understanding, supporting, and loving each other. The couple has a marriage most people would consider today as #relationshipgoals".
On their last anniversary, they each posted sweet proclamations of their love to one another, for all the world to see.
Please fill in your e-mail so we can share with you our top stories!