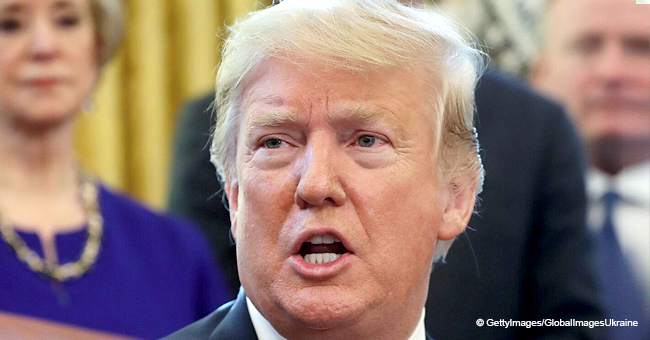 John McCain's Youngest Daughter Calls Trump a 'Child' after Ongoing Attacks on Her Late Dad
In a rare public statement, Bridget McCain, the youngest daughter of the late Senator John McCain, slams Trump in defense of her father.
It was a surprise to see Bridget McCain has finally broken her long public silence. In the past the youngest daughter has stayed out of the spotlight, hardly ever appearing with her father in public.
Her older sister Meghan McCain says, "It's very brave of her. She's young and she does not speak in public. She is also very, very private. Anyone who knows anything about political history could probably surmise why she's chosen to lead a very private life but she felt inclined to say and tweet this."
Through Twitter, John McCain's youngest daughter, now 27, speaks her mind, referring to Trump as "a child who cannot be expected to be courteous."
Her sentiments have come after Trump's attacks, calling the late senator "last in his class" McCain in reference to the dissemination of the infamous Golden Showers dossier, an unverified document which claims that the Russians are in possession of blackmail material on the President of the United States.
Trump told reporters in the Oval Office, "I was never a fan of John McCain and I never will be." During a visit to a tank factory in Ohio, the president continued the attacks, saying, " "I gave him the kind of funeral that he wanted, which as president, I had to approve," he said. "I didn't get a thank you, but that's OK."
In her first tweet, Bridget said:
"Everyone doesn't have to agree with my dad or like him, but I do ask you to be decent and respectful. "If you can't do those two things, be mindful. We only said goodbye to him almost 7 months ago."
This was followed by a second post:
"Even if you were invited to my dad's funeral, you would have only wanted to be there for the credit and not for any condolences," she wrote. "Unfortunately, you could not be counted on to be courteous, as you are a child in the most important role the world knows."
In 1991 Cindy McCain, wife to Senator John McCain traveled to Bangladesh for a humanitarian trip where she first met a newborn orphan with a cleft palate in an orphanage in Dhaka. She fell in love with the baby girl and the couple decided to adopt her and name her Bridget. After undergoing years of surgery as a child for her cleft palate, her adopted mother became an advocate for Operation Smile.
Bridget once said during an interview with Scholastic News when she was just 16 years old:
"My Dad's best achievement is being a dad and also running for president at the same time. He always puts family first!"
Please fill in your e-mail so we can share with you our top stories!