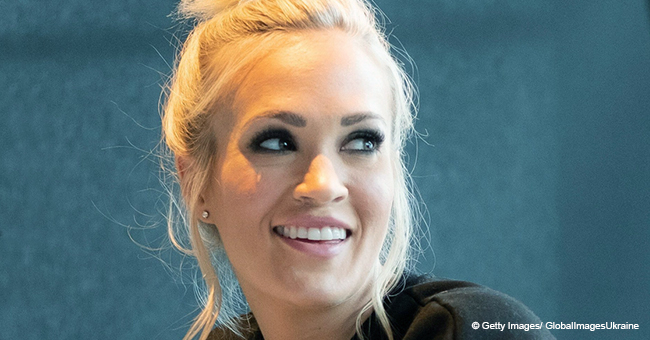 Carrie Underwood Introduces the 'Newest Addition' to Her Family Named Bojangles

Carrie Underwood's family has a new addition named "Bojangles" and she is happy to introduce the new member of the family to the world. The addition is an adorable one you'd absolutely love.
American singer-songwriter, Carrie Underwood is blessed with a majestic and rapidly growing family. The 36-year-old's home recently had the inclusion of a second child, Jacob in January this year. The coming of Jacob turned her family of three into four with the little man becoming a kid brother to 4-year-old Isaiah.
Earlier this week, the mother of two announced the arrival of the newest member of their family via upload on her Instagram handle. The being is much more different from the one preceding it - it is a black-and-white paint horse named "Bojangles."
The horse is very pleasing to the eyes, has well-built muscles and is tempting to ride on. Underwood's upload comes with a caption that suggests her husband, retired NHL star Mike Fisher has gotten a buddy he can spend time with and show off.
"Every cowboy needs a horse...and a hat. I'm still working with him on the Southern accent. MeetBojangles... the newest addition to the Fisher family!"
In the uploads by the American Idol winner, it is evident that Mike cannot seem to get his eyes off his new buddy whose black and white patches matched the black outfit worn by the "cowboy."
Mike joined the celebration by equally posting an update on his social media accounts with the caption:
" Ever since I was a kid I've always wanted horses. Today I got my first!"
Many fans were quick to throw in their comments of how the solid-black head, mane, and neck of Bojangles perfectly matched Mike's cowboy gear. They also gave words about Mike's stunning look.
One user "i_luvthe_beach" showed much love for the horse and the man by saying
"Ohhhh I love the horse!!!! Bojangles........ @carrieunderwood what a cute name? Love it. Oh, and daddy, I love the hat."
Another user, "janbarron7638" complemented the cowboy looks of Mike by saying,
"CARRIE, YOUR Hubby, makes a good looking, Cowboy. Beautiful horse."
Carrie who is still "bouncing back" after her delivery is making efforts to get back in shape and keep fit. There is no doubting that horse rides and family time will do much good to her.
In other news about Underwood, PEOPLE reports that she is letting go of the house where she tripped over and fell while walking her dog. The fall is said to have resulted in her receiving over 40 stitches.
Please fill in your e-mail so we can share with you our top stories!