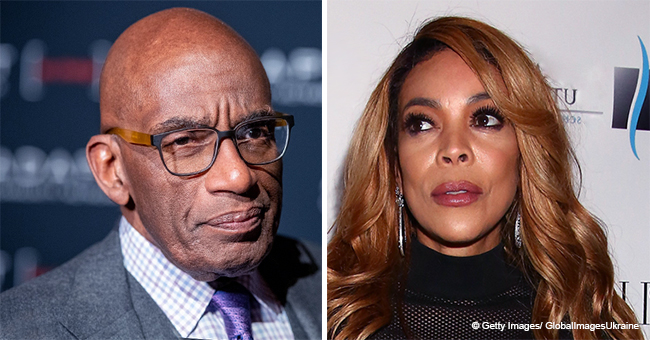 Al Roker Wishes Wendy Williams 'Strength and Hope' after She Opened up about Addiction Battle
Recently, the talk show host, Wendy Williams was applauded for sharing her "baggage" with her audience on the show. Her disclosure about her dependence on drugs in the past earned her a lot of sympathy from celebrities.
On March 19, Wendy started her show by talking about "The Hunter Foundation," which was pioneered by her family, in 2014. According to her, the foundation was for people combating their drug abuse problem.
In the course of revealing the potentials of her foundation, her eyes became teary, and she started to let out her own experience with drug addiction. She even explained how her schedule is run and monitored.
Going a step further, Wendy shared with her viewers the efforts she put into combating her addiction. In her words:
"After I finish my appointments… I am driven by my 24-hour sober coach back to a home that I live in the tristate with a bunch of smelly boys who have become my family...We talk and read, and talk and read, then I get bored with them. Doors locked by 10 pm lights out by 10 pm, so I go to my room and stare at the ceiling and fall asleep to come here and see you. So that is my truth".
Following the spilling of her "truth," ex-host of the weather forecast program, "Today," Al Roker tweeted an encouraging message to Wendy. The duo has a history of friendship, and Al has even appeared twice on the Wendy Williams Show.
A pool of other celebrities, ranging from co-host to anchor, and even comedian, had a word or two for Wendy, as their tweets exhumed compassion, pride, and love for the media personality.
While some saluted her boldness, others related to her based on similar experiences. A tweet from co-host McCain reads:
"Sending strength and love to you @WendyWilliams- speaking your truth and showing your struggles and darkness on national tv is not for the weak of heart."
Subsequently, after Wendy made her proclamation on TV, she secured a spot on the Outstanding Entertainment Talk Show Host Category of the Daytime Emmy Award, it is, however, a head-to-head battle among "The Wendy Williams Show", "The Talk", "The View", "The Real", and "Live with Kelly Ryan".
Notably, Wendy takes her audience through a rollercoaster ride of her history with drug abuse and how her place of residence has been a sober house after she returned from receiving treatment for her Graves disease.
Please fill in your e-mail so we can share with you our top stories!